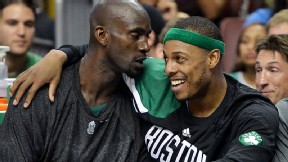 Drew Hallowell/Getty Images
Kevin Garnett and Paul Pierce share a special bond.Following a milestone night against the Toronto Raptors on Wednesday, Kevin Garnett discussed the friendship he shares with Paul Pierce, which dates all the way back to when they were teenagers. Their paths crossed in summer leagues and Garnett even stayed with Pierce for a period of time in California. Garnett alluded to coming close to attending the same high school as Pierce, and, sure enough, Pierce at one point tried to recruit his future NBA teammate to join the ranks of Inglewood High School.
"I tried to convince him," Pierce said before practice on Friday. "We played the one summer league game where we had great chemistry when we were in high school. He played on my AAU team. He flew out from South Carolina. He stayed at my house. He was talking about leaving South Carolina, so that whole summer I was calling him, telling him that he needed to come out here, come to Inglewood High School, we could win a championship out here, he could stay at my house. He almost moved, too. It would've been crazy if that had happened and we'd have won a championship in high school and then also the NBA."
While the reunion didn't come to fruition -- Garnett went on to shine at Farragut Academy in Chicago -- they did share the floor for the 1995 McDonald's All-American Game. Little did they know at the time that they would win their first NBA championship together so many years later.
"They have that picture together from when they were 15," head coach Doc Rivers said. "It's really a cool picture. Kevin was smiling then, which is amazing. So he's changed. But it is cool, it's great when veterans like that get together and have known each other for a long time."
Garnett and Pierce now serve as NBA elder statesmen of sorts, still producing at their older ages -- of which they are reminded of constantly. But any doubt about their effectiveness is quickly laid to rest when they have a productive game for Boston, or -- as was the case in Wednesday's win -- they each reach another significant NBA milestone. Garnett moved into 15th place on the NBA's all-time scoring list, surpassing Jerry West, while Pierce moved past Charles Barkley for 20th all-time.
"That's only because they are old as hell," Rivers joked on Friday. "The only way you can reach those milestones together, you have to hang around a looooooong time.
Added Rivers: "I was joking, but it does seem like every night, one of those two pass some kind of record. I think now you have to create new records for people to pass, but it's awesome."
Pierce and Garnett are in on the joke. The "old" chatter doesn't evade them. But rather than try and run from it, they've embraced their veteran status and can appreciate the history they're making together.
"You appreciate (the milestones), definitely," said Pierce. "Especially being able to do it with a guy like Kevin, a guy who you've been knowing all these years, since high school. It makes it even more special, because then we talk about when we played together when we were 15 years old and then now we're here in the NBA, we've won a championship together, passing milestones up. We laugh about being the old guys in the league. But that's fine. It just shows the longevity we have and the success we have through our hard work."