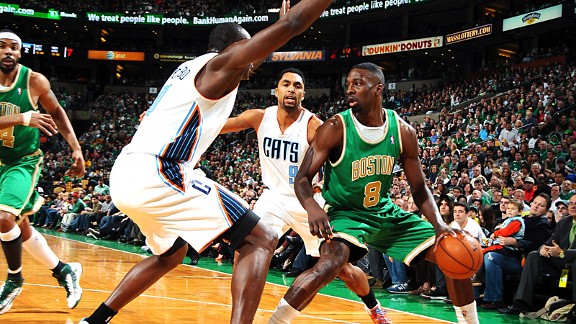 Steve Babineau/NBAE/Getty Images
Jeff Green and the Celtics at work versus the Bobcats on Saturday night.BOSTON -- Rapid Reaction after the Boston Celtics defeated the Charlotte Bobcats 105-88 on Saturday night at TD Garden:


THE NITTY GRITTY
After an embarrassing loss Tuesday in Charlotte, the Kevin Garnett-less Celtics atoned with a breezy triumph against the cellar-dwelling Bobcats. Boston's entire starting five landed in double figures for scoring as the five-man unit of Avery Bradley (13 points), Courtney Lee (12), Brandon Bass (10), Jeff Green (10), and Paul Pierce (14) combined to finish 23-of-44 shooting (52.3 percent). Jason Terry added a team-high 15 points to highlight a bench that got plenty of run (Shavlik Randolph played 15:23 with six points and a team-high eight rebounds). Boston finished a scorching 10-of-15 beyond the 3-point arc. Jannero Pargo scored a team-high 18 points for the Bobcats, while Gerald Henderson -- who had a career night on Tuesday -- finished with 16 points on 6-of-12 shooting.
TURNING POINT
It was a two-possession game with under seven minutes to play in the third quarter, but an 11-2 burst for Boston put some space between the teams. Lee registered three straight jumpers for the Celtics, including a 3-pointer with 4:58 to go that had Boston out front 70-55. A couple 3-pointers by Terry to close out the frame kept the Celtics comfortably ahead (83-66). The lead ballooned as high as 26 before getting whittled down a bit late in the fourth quarter.
WHAT IT MEANS
The Celtics improved to 2-0 without Garnett and have posted lopsided wins over both Phoenix and Charlotte without him (not exactly the muscle of the league). Now the Celtics have to hope that Garnett's adductor muscle heals up in time for what's likely to be a streak-happy showdown with the Miami Heat on Monday. Boston has won 11 straight at home, while, with a win on Sunday in Toronto, the Heat will own a 22-game winning streak when they visit. That would match the second-longest streak in league history. Ironically, Boston snapped Houston's 22-game winning streak on March 18, 2008, exactly five years to the day of Monday's game with Miami.