BOSTON -- Boston Celtics coach Doc Rivers said it's pretty simple when it comes to whether or not center Kevin Garnett will play in Monday's showdown with the Miami Heat.
"If he's healthy, he'll play," said Rivers. "And if he's not, he will not."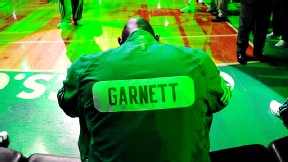 Brian Babineau/NBAE/Getty Images
Kevin Garnett missed Saturday's game due to an adductor strain.Garnett missed just his second game of the season on Saturday night due to a left adductor strain that limited his mobility in practice Friday and again at the team's shootaround before a 105-88 triumph over the Charlotte Bobcats at TD Garden.
Now the question is whether Garnett will be ready for Monday's game against the streaking Heat. Whether by design or happenstance, the Celtics' locker room had every angle covered.
Paul Pierce is planning as if Garnett will not play. "We don't expect him to be back, right now," said Pierce. "And that's the mindset we have to take. If he's back, that's just an added bonus for us to play Miami. Right now, as of today, we have to get it in our mind that this is the team that we're going to see versus Miami, and we all gotta be ready to step up."
Brandon Bass is planning as if Garnett will play. "He'll be able to go," said Bass. "We're looking forward to him going, but if not, everybody's got to step up."
Taking a spot somewhere in between, Jason Terry offered: "I have no idea what [Garnett's] status will be, but whoever's in a white and green uniform will be ready to go."
Read on for a handful of other notes from Saturday's game:
* GUSHING ABOUT PIERCE: Pierce played a manageable 23 minutes, chipping in a starter-best 14 points, eight assists and six rebounds. Rivers used the opportunity to shower the team's captain with praise for his efforts. "He's always been underrated. I think he's been underrated his whole career. I underrated him. ... When I coached in Orlando every time he scored I was so upset because I thought this slow, non-athletic guy -- you look at him and you think, 'How the hell was he scoring on you?' And then when you coach him, you realize he's not slow, he plays at a slow pace. He's athletic as heck, he's stronger than most small forwards in the league, and he just surprises you with his fundamentals. You know he's so fundamentally sound he actually looks unathletic. And it's a heck of a compliment to a player." Rivers later added: "He's a professional scorer, he really is. He just knows how to play basketball. I think every young kid should watch him play. Because he can do it above the rim, but he choses not to. He's just so fundamentally sound with his footwork. It's really nice to watch."
* DEFYING THE ODDS: The Celtics ripped the game open midway through the third quarter, leaning on a starter-heavy unit well into the frame. Rivers admitted that he was rolling the dice a bit in hopes of creating some separation as Boston's starters heated up. "I think we had a run going, and we had a chance to stretch the lead to a point where we wouldn't need them as much. So I took the gamble. It's a bad gamble most of the time, because if you don't get away with it, now you've got five guys in the game at the same time and now you have to try to rest them and it's usually a disaster. But we got away with it today." The starters got the lead to 15 and the reserves helped push it as high as 26 in the fourth quarter before Charlotte made a late charge to whittle it down a bit.
* RED HOT FROM DOWNTOWN: The Celtics were 10-of-15 shooting beyond the 3-point stripe. Terry made all three he put up, while Pierce, Courtney Lee and Jordan Crawford had two apiece. "You know, it was great," said Rivers. "It was through dribble penetration, in-out basketball; a couple were in transition. I want us taking those, those are good."
* NO CAREER NIGHT FOR HENDERSON: After he erupted for a career-high 35 points in Charlotte on Tuesday night, Boston didn't let Gerald Henderson get going on Saturday, limiting him to a manageable 16 points on 6-of-12 shooting. "He loves us. If this is a contract year, I think he should just show Celtic games. And he'll make a lot of money," joked Rivers. "Because he's been phenomenal against us, and he started out like he was going to have another career night. Then I thought our guys pretty much had him in check, but I also thought it was more the team. I think, individually, for whatever reason, we struggle guarding him."