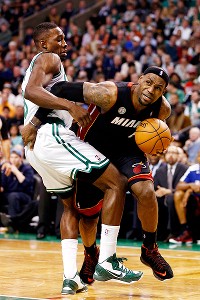 Mark L. Baer/USA TODAY Sports
Jeff Green played solid defense against LeBron James last time out.WALTHAM, Mass. -- It's difficult to imagine a defense being satisfied with giving up a stat line of 34 points (on 14-of-31 shooting), 16 rebounds and 7 assists.
But following the Celtics' 100-98 double overtime victory over LeBron James and the Miami Heat back in January, that indeed was the case. The Celtics knew James could have wreaked even more havoc on them, but they managed to prevent him from completely taking over the game.
The main face of Boston's defensive effort against James in that game was Jeff Green, who embraced the challenge of checking arguably the NBA's best player and did a commendable job of forcing James into jump shots and denying him clear paths to the basket. Of the 31 shots James took in that game, 19 came outside of the lane, and he took just five free throws.
With Miami storming into Boston on Monday, the Celtics will once again look to Green to help keep James in line.
"It's always a challenge," Green said at Sunday's practice. "He's one of the best players. It's always a challenge guarding him and I take on the challenge of guarding him. I enjoy it."
But Green knows he won't be able to stop James all by himself. He can be the first line of defense and work to cut off James' lanes to the basket, but he'll need his teammates working and communicating behind him to help bolster the attack. Communication on defense could be thrown into even greater focus on Monday if Kevin Garnett -- Boston's best talker on defense -- is still out with a strained left adductor. Doc Rivers said at Sunday's practice that KG is "50/50 at best" for Monday night's game.
"I can't do it alone," Green said. "He's going to get past me sometimes, but that's why you count on your teammates to be there."
Added Shavlik Randolph, who saw an increase in minutes in Friday's win over the Bobcats with Garnett out, "I think with (James), it's just getting back on defense. Don't let him get a head of steam. Load up on the ball, just make sure he sees bodies and doesn't see a clear path to the rim."
Rivers stressed the team effort it'll take against James, and even alluded to trying out several different players on him defensively.
"I don't think there is a good matchup for LeBron, if you want me to be honest," Rivers said. "But I just think you have to give him different looks. I think Brandon (Bass), Paul (Pierce), Jeff -- we put all of them on him, we even put Avery (Bradley) on him for a couple of possessions when he was bringing the ball up the floor (last game). I just think he's too smart to have one coverage and one man."
That said, the greatest weight likely will fall on Green's shoulders. Rivers has touched on this in past meetings between the clubs, but he'll likely stress to his team again that whoever is defending James can't get discouraged when he does score. It's not always a reflection on the team's defense as much as it is James' prowess on the offensive end. Over the last 20 games, he's averaged 26.5 points on 57.2 percent shooting from the field and 37.1 percent from 3-point nation.
"He's one of the top players in the league," Green said. "He's going to score, he's going to get his points. You've just got to put things in the past and continue to move onto the next play."