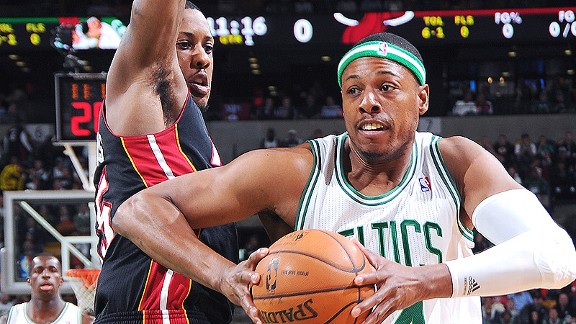 Brian Babineau/NBAE/Getty Images
Can Paul Pierce and the Celtics get past the Miami Heat on Monday?The Boston Celtics (36-29, 24-9 home) host the Miami Heat (51-14, 21-11 away) on Monday night at TD Garden (ESPN, 8 p.m.) Here's what to watch for:


* STREAK vs. STREAK: You might have heard about this 22-game winning streak the Miami Heat are on (it's drawn a few headlines). The Celtics counter with an 11-game home winning streak. Something has to give. The Heat can move into sole possession of the second-longest single-season winning streak in league history with a victory. The Celtics ended the Houston Rockets' 22-game winning streak during the 2007-08 season exactly five years ago today.
* HOW HAVE HEAT CHANGED?: Celtics coach Doc Rivers offered the scouting report on how the Heat have changed since Boston beat them in late January (one of Miami's last losses before this current streak). "They are just better at what they do," said Rivers. "I don't think they've changed much. They've played the same way all year. They spread the floor, they attack. I think, defensively, is where they've really gotten a lot better over this stretch. Everybody is doing everything great for them right now. LeBron [James] is playing on a different level and [Dwyane] Wade is healthy now. I think that's the biggest difference from when you saw them earlier in the year; Wade's a different player. LeBron's been the same, he's been dominant. But now Wade is being dominant as well and everybody else is just feeding off of that."
* CHAMPIONSHIP SWAGGER: Here's one big difference Rivers has noticed in the Heat this season: They are playing with a new level of confidence, especially James after getting that elusive ring last season. "He has a championship swagger now," said Rivers. "And he's always been the best player, now he's the best player with confidence -- if that makes any sense. It makes him great; I'm happy for him. I just want to beat them. But he's gone through a lot, he's paid his dues if you want to say, now he's a champion. Now it's our job to try to knock that off of him." Hop HERE to read how Jeff Green will approach the defensive assignment after helping to contain James last time out.
* LIMIT THE CORNER 3: Ray Allen's presence will be a friendly reminder for Boston to limit the corner 3-pointer. According to ESPN Stats and Info, the Heat entered Sunday's action with 234 corner triples this season -- second most in the league behind only Houston. The Celtics own the best 3-point defense in the league since Avery Bradley returned in early January as opponents have shot a mere 30.2 percent from beyond the arc over the past 35 games.