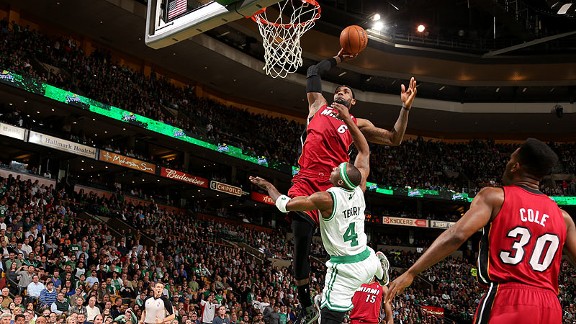 Nathaniel S. Butler/Getty Images
Miami's LeBron James dunked over Boston's Jason Terry during Monday's game.Celtics coach Doc Rivers said Jason Terry made the right play stepping up to defend LeBron James' alley-oop slam during Monday's game at TD Garden.
Making his weekly appearance on Boston sports radio WEEI (93.7 FM), Rivers backed his veteran for stepping up against James, who delivered a vicious jam that left Terry tumbling to the floor.
"I love it," Rivers said. "I wish [Terry] could have taken him down before he got to the dunk. And I said the same thing about Brandon Knight [when he got dunked on by Clippers center DeAndre Jordan last week]. Listen, you should have fun. It was a great dunk, and knocked Jason down, or Brandon down. With the new age of Twitter and all that, it's fun and I have no problem with people having fun. But just like Brandon took it very well, so did Jason. And they both made the right plays.
"I hate when I hear people talking about getting out the way because they don't want to get embarrassed. That bugs the heck out of me. You have to stick your nose in there if you want to be a champion. I thought that was what you should do."
Rivers was asked if he was OK with James getting tagged with a technical in the aftermath and quipped, "Well, I like it because we got a [free throw] out of it. I don't ever mind that." Rivers acknowledged that the technical was to prevent any further dust-up after the play.
Terry, who has an open disdain for the Heat stemming from two NBA Finals matchups against the team, including a loss to Miami in the 2006 Finals, should only be further motivated against James and the Heat moving forward.
Terry's name was still trending on Twitter 15 hours after the dunk.