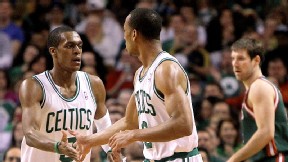 Barry Chin/Getty Images
Rajon Rondo and Avery Bradley have proven to be a solid pairing.With the way the Boston Celtics have performed since losing Rajon Rondo for the season to a torn ACL -- posting a 16-7 record over 23 games -- some have wondered if being able to play a competitive brand of basketball without their All-Star point guard might make him expendable in future seasons.
Floated that scenario during a call to Boston sports radio WBZ-FM (98.5 the SportsHub), Celtics president of basketball operations Danny Ainge brushed off the suggestion while stressing how much the team likes the Rondo-Avery Bradley backcourt combination moving forward.
"I don't know what you're insinuating because Avery is not Rondo and Avery can also play 2 guard with Rondo and those guys have been extremely effective together," Ainge said. "I know that we haven't had them together much this year and I think that Rajon loves playing with Avery Bradley for a lot of different reasons. I think that combination last year proved to be spectacular, they just didn't get a chance to get together much this year, so it's a little bit unfair."
During the 2011-12 season, the Rondo-Bradley backcourt shared the floor in 33 games for a total of 451 minutes, mostly down the stretch as Boston surged to the regular-season finish line. Boston has not only posted an insanely low defensive rating (points per 100 possessions) of 88, but an offensive rating of 102.7 for a plus-14.7 differential. The Celtics were a whopping plus-104 when those two shared the floor during that time.
This season, with Bradley not making his season debut until Jan. 2 while rehabbing from double shoulder surgery, the pair shared the floor for only 250 minutes over 11 games. The numbers were not nearly as solid (minus-25 overall in plus/minus and a net rating of minus-1.6), but the one number that shined through was a still-solid 94.7 defensive rating. For a Boston team that labored defensively through the first 30 games of the season, Bradley's return revitalized the defense even before Rondo was injured on Jan. 25.
Later, Ainge was asked more directly if he'd ponder trading Rondo or Bradley in the offseason given the way his team has performed.
"I can't envision any scenario, no," Ainge said. "I love those guys, where Rondo is right in the prime of his career, and Avery's not even there yet, he's continuing to get better. I think they are a great guard combination and to ever consider doing something like that, it would have to be something significant."
Read on for a few more notes from the call, including Ainge on Jeff Green's consistency and Kevin Garnett's availability:
* GREEN PITCHES A NO-HITTER VERSUS HEAT: Ainge heaped praise on Jeff Green's recent play, suggesting he's been a consistent performer over the team's last 23 games since losing Rondo and he doesn't expect a 43-point outburst like Monday's effort against Miami each time out. When a quiet outing against Oklahoma City was cited, Ainge leaned on his old baseball days for an analogy. "That's crazy, that's like taking away from a pitcher that goes out and throws a no-hitter -- obviously he's not going to be able to throw a no-hitter every time -- and the next outing he gives up six runs and you say, 'Well, which guy is it?' I mean, that's sports. That's the nature of the game. Jeff Green is not LeBron James, he's not Kevin Durant, he's not Larry Bird. He's a really good player for us and a very important player for us. I think he's getting better all the time."
* WILL KG BE BACK WEDNESDAY?: Asked if Kevin Garnett, who has sat out the last two games due to a thigh issue and illness, will be back on the floor Wednesday night when the Celtics open a three-game road trip in New Orleans, Ainge said, "I'm not sure. I really don't know. Last night, he was not only still a little bit sore, but he was sick, he had the flu. We're being extra careful with Kevin. We don't want him missing a short time turned into a long time, so we'll be very careful with him and just take it day by day. I honestly don't know. I'm not even sure if Kevin knows whether he'll play Wednesday or Friday, or the next week. No guarantees, I don't have timetable. ... I don't know. Day to day."