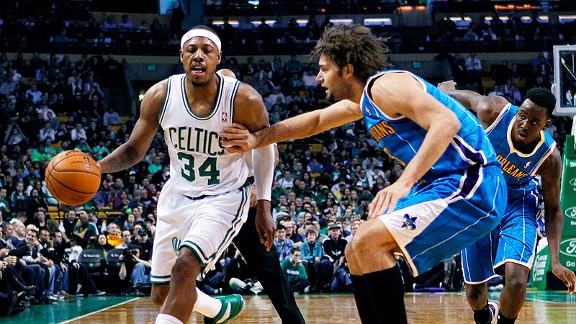 Greg M. Cooper/USA TODAY Sports
Paul Pierce and the Celtics will be looking to get past the Hornets.The Boston Celtics (36-30, 12-20 away) visit the New Orleans Hornets (22-46, 12-21 home) on Wednesday night at New Orleans Arena (8 p.m., CSN). Here's what to watch for:


* NO FAMILY, ALL BUSINESS: The Celtics-Hornets matchups grew in interest before the season because of the father-vs.-son storyline between coach Doc Rivers and his son, Austin. Alas, Austin broke his hand earlier this month against the Lakers and is likely done for the season. Now Boston's only focus on Wednesday is on extracting revenge for a head-shaking 90-78 loss at TD Garden on Jan. 16. Rivers, who admitted it was a bit unnerving coaching against his son, probably isn't too upset to miss the hype this time around.
* ON THE ROAD AGAIN: Boston's second-half surge has featured strong play at home -- winning 11 straight before falling to Miami on Monday -- but the Celtics still have to prove they can consistently win on the road. This isn't an overly daunting three-game trip, but Boston would be well served to start on the right foot, particularly with the final stop being a visit to Memphis on the second night of a back-to-back. The Celtics were 0-2 on their last brief road excursion (Oklahoma City, Charlotte).
* SYNERGY SNAPSHOT: Offensively, the Hornets rank 17th in the NBA, averaging 0.918 points per play, according to Synergy Sports data. More noticeable is that they are the second best team in the league in transition, posting 1.215 ponts per play -- making it imperative that Boston get back and get set. Defensively, New Orleans ranks 28th overall while allowing 0.969 points per play. As efficient as they are at putting up points in transition, they are equally as bad defensively, ranking 29th overall. What's more, the Hornets struggle with individual defense, ranking last in isolation and 24th against spot-up shooting.
* HORNETS STING?: Where can the Hornets hurt opponents? Aided by rookie top pick Anthony Davis, New Orleans is solid on the glass, including 10th in offensive rebound percentage and eighth in second-chance points. Boston has to defend well around the basket (and rebound consistently) as the Hornets are seventh in the league in percent of points generated in the paint.