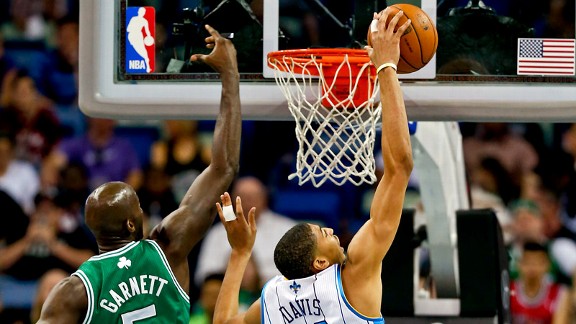 Derick E. Hingle/USA TODAY Sports
Kevin Garnett was back on the court Wednesday night in New Orleans.Rapid reaction after the New Orleans Hornets defeated the Boston Celtics, 87-86, on Wednesday night at New Orleans Arena:


THE NITTY GRITTY
Hornets rookie Anthony Davis tipped home an Eric Gordon miss with a fraction of a second remaining as New Orleans stunned a Boston team that had rallied back late in the fourth quarter. Ryan Anderson scored a team-high 21 points off the bench for the Hornets, while Gordon added 18 more. Paul Pierce scored a game-high 28 points -- fueling Boston's rally from a nine-point deficit with under six minutes to go -- but it wasn't enough for a Celtics team that didn't score over the final 1:54. Kevin Garnett, back on the court after missing the past two games, registered 20 points and six rebounds in 29 minutes, while Jeff Green scored 11 of his 13 points in the first quarter and promptly disappeared (he did not score in the second half).
TURNING POINT
The Celtics were down nine and their offense was ice-cold with under six minutes to play. That's when Pierce took over, spearheading a 10-0 run over a two-minute span as Boston surged ahead. Pierce scored 11 points over a 3½-minute span and a 3-pointer from the captain had the Celtics out front, 84-81, with 2:34 remaining. The Hornets wouldn't go quietly, and, with a chance to win it on a late possession, Davis crashed for a tip over Garnett (and Green nearby) with 0.3 seconds remaining. Boston never got a final shot off.
C'S TAKE EXTENDED INTERMISSION
After shooting 60 percent (21-of-35 overall) in the first half, the Celtics' offense forgot to come back out for the third quarter, as Boston scored only 12 points on 5-of-18 shooting (27.8 percent). The only player with multiple field goals was Pierce, while the rest of the team was 3-of-15 shooting for just seven points. The Celtics also turned the ball over five times (leading to six points), and the Hornets rallied from as much as 13 down to tie the game at 67 heading into the final frame.
WHAT IT MEANS
Many wondered if the Celtics would have a bit of a letdown after an emotional Miami game. Boston started strong and had multiple double-digit leads in this game. Alas, a dismal second half spelled the Celtics' demise. Even with a tightened rotation, Boston simply sputtered on the offensive end in the second half, shooting 32.4 percent overall (12-of-37 shooting). The Celtics get a day off Thursday before embarking on a back-to-back in Dallas on Friday and Memphis on Saturday. Road woes continue to plague this team and its quest to shuffle up the Eastern Conference playoff ladder.