After the Celtics squandered a steady first-half effort and a lead that grew as large as 13 during an unsightly 87-86 loss to the New Orleans Hornets on Wednesday, Boston head coach Doc Rivers didn't hide his frustration with his team.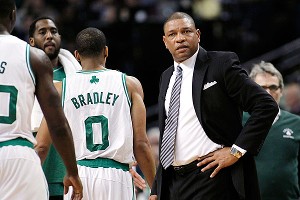 Greg M. Cooper/USA TODAY Sports
Celtics coach Doc Rivers was not happy with his team's effort in New Orleans."We messed the game up, our spirit. We thought we were going to win the game when we got the lead," Rivers told reporters. "You could see it. I told our guys at halftime [and] you could see it in the middle of the second quarter. We went from being a solid good-looking basketball team to showtime, and I believe in the basketball gods. I think when you mess up the game, the game messes you up, and I thought we deserved [to lose]. I really did."
Rivers added: "I thought we activated them. I thought they were ready to go. You could just see it. We stopped making passes, we started dancing around, stopped defending, laughing -- you could see our guys laughing and joking. I told our coaches, I said, 'The basketball gods will get us tonight at some point.' And, unfortunately, it did. So I thought we deserved everything we got. We don't learn, because we've done this three or four times this year and we just don't learn. It's disappointing."
Boston led 55-45 at halftime after shooting 60 percent from the field over the opening 24 minutes. But Boston -- perhaps a bit too overconfident against the team with the worst record in the Western Conference -- fell victim to poor habits and sloppy execution in the second half, shooting just 32.4 percent and managing a mere 31 total points. The C's received little contribution from anyone other than Paul Pierce (16 of his 28 points in the second half).
The Hornets took advantage of Boston's ho-hum attitude and stormed back, leading by as many as nine at one point in the fourth quarter. Though Boston took the lead again in the final minutes, the C's couldn't deliver the knockout punch, and Anthony Davis tipped in an Eric Gordon miss with 0.3 of a second remaining to give New Orleans the victory.
Asked if the time of the season -- Boston is still jockeying for crucial playoff positioning -- played a role in his frustration, Rivers said it didn't, stressing instead how consistently seeing the lack of effort can "get old."
"It doesn't matter at the point in the season. It really doesn't," Rivers said. "But it does get old and you can just see it. And once you do it, you can't turn it back on. But I thought once we activated them, you could see the difference in the speed, the way they were playing and the way we were playing in the fourth quarter. We were trying to, 'Come on ... ' no, you can't do it now, you turned it off. And you turned them on. So I thought they ran a great play at the end, but we were asleep and we deserved it. I thought we absolutely deserved to lose the game. Whether we won it or not, we deserved to lose the game."