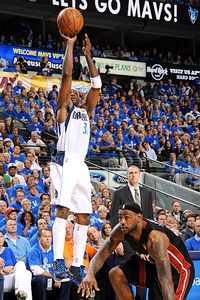 Andrew D. Bernstein/NBAE/Getty
Jason Terry shoots over LeBron James during the NBA Finals.In the reignited LeBron James vs. Jason Terry feud, Mavericks owner Mark Cuban praised his former guard's fearlessness in stepping into the line of danger while trying to defend a dunk on Monday. From our friends at ESPN Dallas:
Terry's refusal to back down from any situation is one of the things that endeared him to Cuban and others in Dallas. Perhaps the most famous example was after the Mavs fell behind 2-1 to the Heat in the 2011 NBA Finals, with Terry being shut out by James in the fourth quarter of both losses. Terry declared the next day that he wanted to see James defend him like that for an entire seven-game series. Terry averaged 20 points per game in the next three contests and sank a clutch 28-footer over James to seal the Game 5 win, as the Mavs won the franchise's lone title.

"[Terry] has got almost carte blanche," said Cuban, who mentioned that Mavs fans should give Terry a standing ovation when the Celtics come to the American Airlines Center on Friday.

That doesn't make it a wise move for the 6-foot-2, 180-pound Terry to try to challenge the 6-foot-8, 250-pound James, does it? "I don't know what his plan was, but his plan certainly wasn't to avoid whatever it was [James] wanted to do," Cuban said. "And I give him credit for that. If he was trying to take a charge, that's one thing. If he was going straight up and down -- you can create contact and it's still not a foul -- that's a way you might stop him. If he got caught in between, that's what happens.

"At least he didn't back down. He deserves credit for that."
Hop HERE to read the full story.