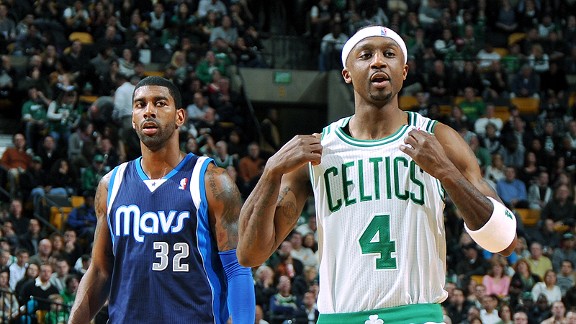 Brian Babineau/NBAE/Getty Images
Jason Terry heads back to Dallas for the first time in a Celtics uniform on Friday.The Boston Celtics (36-31, 12-21 away) visit the Dallas Mavericks (32-36, 18-14 home) on Friday night at American Airlines Center (8:30 p.m., CSN). Here's what to watch for:


* JET FLIES HOME: Coming off one of the quietest efforts of his 14-year career, Jason Terry returns to Dallas for the first time as a member of the Boston Celtics. Terry, who went scoreless in 20 minutes in New Orleans (only the third time that's happened in his career), spent eight decorated seasons with the Mavericks, winning one world title in two Finals appearances and snagging the Sixth Man of the Year award during the 2008-09 campaign. Will the homecoming bring out the best in Terry?
* SYNERGY SNAPSHOT: Even without Terry providing a spark off their bench, the Mavericks are still one of the league's most efficient offenses. Dallas ranks seventh in the league averaging 0.95 points per play, according to Synergy Sports data. Most notable is Vince Carter, who is quietly averaging 1.032 points per play. Among all NBA players with at least 800 offensive plays, Carter ranks 11th overall in the league. Defensively, the Mavericks rank in the back half of the league at 18th. Teams have exploited O.J. Mayo (0.917 ppp, 27th percentile) and, among the teams' top eight rotation players, Dirk Nowitzki actually has the best individual numbers (0.804 ppp, 76th percentile).
* VALUE THE BALL: We sound like a broken record here, but the Celtics have been reckless with the ball in recent games and can't get away with that in Dallas. The Mavericks rank fourth overall in both turnover percentage (14.4) and assist-to-turnover ratio (1.63). Dallas also operates at the fifth highest pace in the league (96.75 possessions per game) which means the tempo will be cranked in this one. The Celtics absolutely want to run, but it can't come at the expense of giving the ball away for easy points.
* DON'T LOOK PAST MAVS: The Mavericks sit 3½ games back of the final playoff spot in the Western Conference, but catching the eighth-seeded Lakers won't be easy, particularly with Utah sitting two games ahead of Dallas in between. The Mavericks are likely to see their 12-year playoff streak end this season, but that won't make things any easier for Boston on Friday night. Terry's former teammates will probably have a little extra motivation in this one as well. For Boston, this is an important game to get as a tough matchup looms as a back-to-back closes in Memphis on Saturday. After stumbling in New Orleans, a win tonight might be needed to salvage this three-game road trip.