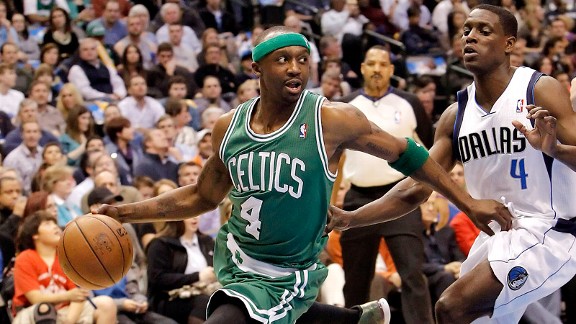 AP Photo/Brandon Wade
Celtics guard Jason Terry returned to Dallas on Friday night.Rapid reaction after the Dallas Mavericks defeated the Boston Celtics 104-94 on Friday night at American Airlines Center:


THE NITTY GRITTY
Brandan Wright scored a game-high 23 points on 11-of-16 shooting to go along with eight rebounds over 30 minutes, while Vince Carter added 19 points (and was a game-best plus-25) off the bench for the Mavericks. Paul Pierce, Kevin Garnett and Brandon Bass each scored 16 points for Boston (Bass and KG pairing up for 23 rebounds), but the Celtics spent nearly the entire night trying to play catch-up.
TERRY DOES DALLAS
Jason Terry returned to Dallas for the first time as a member of the Boston Celtics and was showered with a standing ovation when he checked in with four minutes to play in the first quarter. Terry promised to be more aggressive and landed at the free throw line 30 seconds in, but he finished with just eight points on 3-of-9 shooting with three turnovers over 21:57. He was minus-6 overall.
TURNING POINT
The Celtics trailed virtually the entire night and spent most of the second half trying to chip away at a double-digit deficit. Every time Dallas' lead dipped to single digits, the Mavericks pushed it right back up. Boston clawed within six numerous times in the fourth quarter, including with 6:36 to play, but Dallas responded with a little 6-0 burst that included a Wright putback and a Carter finger roll for a 93-81 lead with five minutes to go. The Celtics simply could never get over the hump, charging within five with 1:51 to go before O.J. Mayo delivered the 3-point dagger.
LEE INJURES ANKLE
Celtics guard Courtney Lee, playing crunch-time minutes, appeared to injure his left ankle, landing awkwardly on an opponent's foot while defending as Boston made a late charge. Lee had to be helped to the bench, but was able to hobble to the locker room after the game.
WHAT IT MEANS
The Celtics (36-32) fall to 0-2 on this three-game road trip and have lost three straight overall. Boston put together a dismal first half, shooting 37.1 percent from the floor (13-of-35) while missing an impossible number of layups, turning the ball over nine times and failing to stop the pick-and-roll. That left the Celtics with an 11-point halftime deficit that was too much to overcome. The Celtics head immediately to Memphis for the second night of a back-to-back against the Grizzlies. The two teams will have something in common as Memphis lost to those pesky, no-longer-cellar-dwelling Hornets on Friday night. The Celtics dip a half-game back of Chicago and are now four games behind Brooklyn (the current fourth seed). The only good news for Boston: Two other teams nearby on the playoff ladder -- Atlanta and Milwaukee -- also lost on Friday night.