If Boston Celtics coach Doc Rivers was looking for an emphatic response from his team after an embarrassing effort in New Orleans, he didn't get it in Dallas.
The Celtics came out flat again on Friday, watching the Mavericks post a 30-point first quarter while opening as much as an 11-point lead in the opening frame. Boston was stuck chasing them the rest of the way in a 104-94 defeat at American Airlines Center.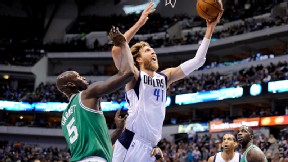 Jerome Miron/USA TODAY Sports
Kevin Garnett and the Celtics couldn't quite slow Dirk Nowitzki and the Mavs."I just thought we got lost a lot tonight on defense," sighed Rivers. "We gave up a 30-point quarter, which we don't do."
Rivers seemed downright mystified by Boston's defensive struggles on Friday, his players were battered in the pick-and-roll, and the Celtics never quite came up with the big stop when they needed it most while trying to claw their way back.
Boston's offense certainly didn't help the team's cause, missing an alarming amount of layups (Boston was 18-of-35 shooting near the rim overall) and the Celtics shot a mere 41.6 percent overall. But it was the defense that will leave Rivers fuming during film review before Saturday's visit to Memphis.
"I wasn't really happy with our defense, so we'll have to clean that up," said Rivers.
During Boston's current three-game losing streak, its defensive rating (points allowed per 100 possessions) is nearly four points below its season average at 103.1. But dig deeper and the larger cracks are revealed. Boston's guards had a bad night in New Orleans and the entire team seemed out of sync defending the pick-and-roll on Friday.
The Celtics are the best team in the league against pick-and-roll ball-handlers this season, allowing a mere 0.709 points per possession, according to Synergy Sports data. But over the past three games, that number has jumped up to 0.897 points per possession. That would be the worst mark in the NBA if maintained (the Sacramento Kings are last in the league at 0.889 points per possession).
Boston turned around its season in large part because of its defense, but these last three games have seen a bit of a regression. The team is staring at an 0-3 road trip if it can't collect itself Saturday against a Memphis team that owns the second-best defense in the league (allowing a mere 0.88 points per play).
The Celtics might also be without guard Courtney Lee, who sustained a mild left ankle sprain in the closing minutes after stepping on an opponent's foot while defending near the 3-point arc. Lee's absence would further diminish Boston's defense and force the likes of Jason Terry and Jordan Crawford to step up their efforts at that end of the floor.
But Rivers needs the whole team to step up. He stressed after Friday's loss that it wasn't just the defensive miscues that hurt Boston, it was the team's inability to compete in the 50/50 game, as Dallas won the hustle race for most available loose balls and long rebounds.
"We got crushed in the 50/50 game [Friday]," said Rivers.
The Celtics simply have to want it more. It's one thing to lose focus against a cellar-dweller like New Orleans, but Boston should have been better out of the gates against Dallas. Instead of throwing the first punch, the Celtics were caught on their heels and it spoiled Jason Terry's homecoming.
Boston is 12-22 on the road this season, not an encouraging sign for a team that is seemingly resigned now to not having home-court advantage at any point during the playoffs. Sure, the Celtics have beaten most of their Eastern Conference playoff brethren on the road, but they are doing themselves no favors by playing down to their competition down the stretch. The Bucks are still lurking two games back of Boston at the bottom of the East playoff ladder, but have lost their last two contests.
With 14 games to go in the regular season, this is when the Celtics want to start peaking. Instead, all we've seen lately is slippage.