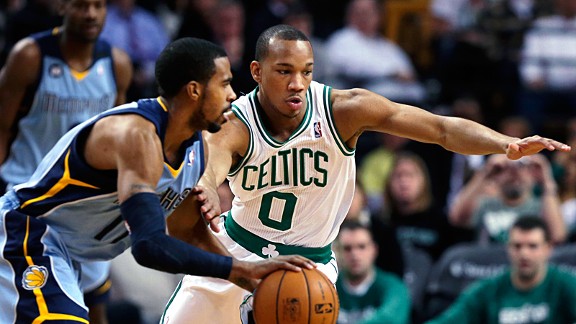 AP Photo/Elise Amendola
Avery Bradley and the Celtics will look to stop a three-game losing streak by stopping the Grizzlies.The Boston Celtics (36-32, 12-22 away) visit the Memphis Grizzlies (46-22, 27-8 home) on Saturday night at FedEx Forum. Here's what to watch for:


* WHICH DEFENSE WILL SHOW UP? The Celtics have looked like disinterested defenders with inconsistent energy for much of this three-game losing streak, particularly the first two stops on this road trip. If they are to salvage this three-game trek they'll need to get back to the formula of being a defense-first team that fuels the offense with stops at the other end of the floor. Courtney Lee's ankle injury could diminish the defense on the perimeter if he can't go (or is less than 100 percent), but it's the interior defense that should get the bigger test on this night.
* SYNERGY SNAPSHOT: The Grizzlies rank just 23rd on offense while averaging 0.892 points per play, according to Synergy Sports data. That said, they can hurt opponents in transition after defensive stops and will attack with Zach Randolph and Marc Gasol in the paint in the half-court set (the two have paired up for nearly 30 percent of the team's offensive possessions). Defensively, Memphis ranks second in the league in allowing 0.88 points per play. No surprises here, old friend Tony Allen's numbers are brilliant (0.773 points per play, opponents shooting 34 percent against him), while Gasol (0.747 ppp, 91st percentile) and Randolph (0.784 ppp, 83rd) anchor the frontcourt. And the addition of Tayshaun Prince has been a boon as he's allowing a mere 0.701 points per play and opponents are shooting a mere 32.1 percent against him).
* BROKEN GLASS: It goes without saying against Memphis, but Boston has to find a way to be competitive on the glass. The Grizzlies rank first in the league in offensive rebound percentage (31.7) and second in total rebound percentage (52.3). The Celtics got scorched on the offensive glass in New Orleans, most notably Anthony Davis' winning tip-in, and must make up for their lack of pure size with hustle around the basket. Boston cannot lose the 50/50 game like it did in Dallas.
* CRANK THE PACE: It's the second night of a back-to-back and the third game on the road in four days. All signs point to Boston slogging through this one, but the Celtics absolutely have to crank the tempo. The Grizzlies are near the bottom of the league in pace (91.25 possessions per game) and will be content to work the clock, batter Boston down low, and win the game on the glass. The Celtics need to get stops and outrace the Memphis bigs down the floor for easier offensive opportunities. Boston won't win a half-court game.