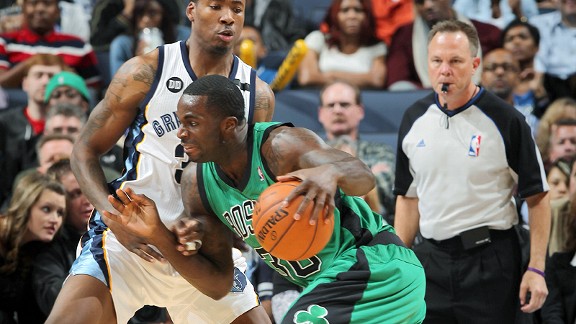 Joe Murphy/Getty Images
Brandon Bass and the Celtics met some resistance on Saturday night in Memphis.Rapid reaction after the Memphis Grizzlies defeated the Boston Celtics 110-106 on Saturday night at FedEx Forum:


THE NITTY GRITTY
Jerryd Bayless scored a game-high 30 points on 11-of-20 shooting, while a staggering seven of the eight players that the Grizzlies put in the game landed in double figures for scoring (sorry, Quincy Pondexter). Zach Randolph, shuffled to a reserve role for a tardy arrival, added 15 points and 10 rebounds for Memphis. Paul Pierce scored a team-high 26 points on 10-of-17 shooting for Boston, but it was Jordan Crawford (21 points, 5 rebounds, 3 assists) who sparked an improbable late-game comeback that nearly saw Boston rally out of a 21-point hole.
TURNING POINT
The Grizzlies embarked on a 13-2 run early in the fourth quarter while stretching their lead as high as 21 points. Bayless lit the fuse with a 3-pointer, and a Mike Conley old-fashioned three-point play had Memphis out front 98-77 with 7:16 to play. Celtics coach Doc Rivers waved the white flag a bit at that point, pulling Pierce near the end of the run, but Boston's scrappy reserves actually made this a game again led by Crawford. The Celtics clawed within a possession, knocking that lead all the way down to 2 with 18.9 seconds to go. But Memphis hit all of its free throws (and Jason Terry missed a pivotal one) that allowed the Grizzlies to hang on.
PUT HIM ON A POSTER
Avery Bradley provided Boston's highlight of the night, storming down the middle of the lane and throwing down a vicious one-handed jam over Ed Davis with 6:48 to play in the first quarter. The entire Boston bench spilled onto the edge of the court in celebration.
TECHNICAL DIFFICULTIES
Crawford picked up a technical foul arguing for a goaltending call when Tayshaun Prince hustled for a fourth-quarter chase-down block. Crawford had five technical fouls this season while in Washington, but this was his first since joining the Celtics. Doc Rivers got tagged with his sixth technical of the season as well for arguing against a Paul Pierce double-dribble call in the fourth quarter (though he resisted getting run in order to go watch the thrilling end of the Marquette-Butler NCAA tournament game).
WHAT IT MEANS
The end of Boston's bench helped closed a dismal road trip on the tiniest of positive notes. It won't do much to eliminate the fact that Boston, which played without two starters as Kevin Garnett and Courtney Lee both have left ankle injuries, has now lost four straight to fall to 36-33 overall (a mere 1½ games up on eighth-seeded Milwaukee). Boston has a couple days off before hosting the Atlantic Division-leading New York Knicks on Tuesday night at TD Garden. Also on the schedule this week for the Celtics: A midweek trip to Cleveland for the tail end of a back-to-back, and a visit from the Hawks -- one of the teams Boston is jockeying with at the back end of the Eastern Conference playoff ladder -- on Friday night.