Playing without injured starters Kevin Garnett and Courtney Lee, the Celtics fell 110-106 to the Memphis Grizzlies on Saturday, but nearly overcame a 21-point fourth-quarter deficit on the strength of some encouraging play from some of their key reserve players.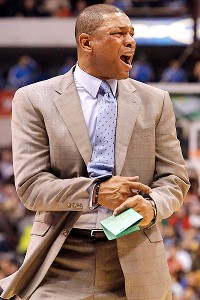 AP Photo/Brandon Wade
Doc Rivers didn't like losing another game, but liked his team's late rally in Memphis.Jordan Crawford stepped up in Lee's absence and put in 21 points -- a high since joining the Celtics -- while Terrence Williams and Shavlik Randolph each chipped in with some gritty play. Celtics head coach Doc Rivers viewed the effort of his bench guys as one of the key takeaways from Saturday's loss -- Boston's fourth straight.
"They were great," Rivers told reporters in Memphis. "We basically told them to go in and try to cause havoc and they did that. I thought Jordan was fantastic with his offense and with his passing. I thought all the guys just came in and played hard for us and got us back in the game."
Rivers later added: "I want to win every night. I don't care who's out on the floor. I want our guys to believe they can win every night. That's basically what I was talking to Avery [Bradley] and Jeff [Green] about. We don't go into games thinking, 'We've got a lot of guys hurting, we can't win.' We go into games thinking, 'We've got a lot of guys hurting, somebody else is going to help us win.' And that's how we've got to be and everybody has to lead everybody."
Things looked bleak for the Celtics when Memphis assumed a 98-77 lead with 7:16 remaining in the game, but Boston managed to pour in 29 points from there, snipping the lead to just 2 with 18.9 seconds left. Jason Terry was fouled shooting a 3-pointer and had a chance to bring Boston within a point, but he missed one of his three free throws and Memphis hung on for the victory. Despite the large deficit the Celtics faced, Rivers said they never stopped believing they could win.
"We always [thought we could win]," Rivers said. "Listen, we got a four-point play opportunity, you know? We told [Terry] to come out, pump fake, and if you've got a guy in the air, hopefully you can throw it up. He probably wasn't strong enough, honestly, to do that. But, we almost got it, so there's always a chance to win a game. In that case, to tie the game."