WALTHAM, Mass. -- When the Celtics' frontcourt was initially thinned by injuries earlier in the season (both Darko Milicic's initial bolt home and Jared Sullinger's season-ending back injury), Keyon Martin's name was invariably invoked as a potential veteran addition.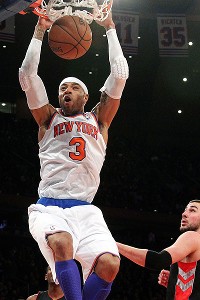 AP Photo/Mary Altaffer
The Celtics considered adding Kenyon Martin, but ultimately he got swooped up by the Knicks.Boston coach Doc Rivers admitted Monday that the team gave heavy thought to adding Martin, but never pulled the trigger. Instead, the Knicks signed him to two 10-day contracts beginning in late February and have since added him for the remainder of the season.
Martin is averaging 8.6 points and 5.3 rebounds over 23.1 minutes per game for New York, starting six of the 11 games he's played for them. The Celtics host the Knicks in the first of two games in a six-day span on Tuesday night at TD Garden.
"I think Kenyon's been great," admitted Rivers. "He's been absolutely fantastic. I'm happy for Kenyon. I'm not happy that he went to the Knicks, but I am happy for him. Because he was out there and we looked at him -- a lot of [teams] looked at him -- and, in the end, I didn't care where he ended up, I just wanted him to do well. I don't know him well, but we've always had a very good relationship. Guys like that, you want them to do well. For me, it's as simple as that."
Why didn't it work out for the Celtics and Martin?
"I don't know," said Rivers. "We looked at all the guys, we were still looking at guards at the time [after losing Rajon Rondo and Leandro Barbosa to season-ending injuries]. So we were in no hurry at the time for a big. We were looking for more a big of size, if you know what I mean. And by the time we got around to it, he was gone."
Martin would certainly be a nice luxury now as the Celtics prep for as much as two weeks without Kevin Garnett. Instead, Boston has to game plan against him with a thinned frontcourt.
Asked why the Celtics-Knicks rivalry tends to bring the best out of his squad in recent seasons, Rivers noted, "It's New York, our guys get up for them. I think they get up for us. Up until this year and last year, we had an advantage. We had the advantage and our guys were up, that usually meant good things for us. Now it's pretty even, but both teams get up each other. It's a fun matchup. I preferred it better in the past, but it's good now. I like games when guys are up for each other, I think they are a lot of fun."
With their recent four-game stumble, the Celtics are now 6½ games back of Atlantic Division-leading New York with virtually not chance of catching them, even with two head-to-head matchups remaining over Boston's final 13 games. That doesn't mean they don't have added motivation against New York.
"Well, definitely being that this is a team you may face in the playoffs, you get a chance to beat them a couple more times, it really takes away a team's confidence going into the playoffs," said captain Paul Pierce. "So that's got to be a little extra motivation. They've been playing well all year long, they've been on top of the Atlantic Division. But right now it's about heading into the playoffs, picking up the pace. The Knicks are a team we might have to face, so we want to try to put a little bit of doubt in their minds if we can go out here and get a couple of wins verse them going into the season's end."