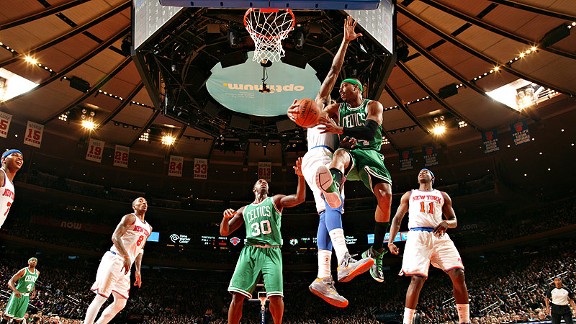 Nathaniel S. Butler/Getty Images
Paul Pierce encounters traffic around the basket against the Knicks.The Boston Celtics (36-33, 24-10 home) host the New York Knicks (42-26, 18-16 road) on Tuesday night at TD Garden (7 p.m., TNT). Here's what to watch for:


* PASSING THE TORCH?: While the Atlantic Division title is far from a priority for the Celtics, the five-time defending champs won't be thrilled to hand over their crown. Even with two head-to-head matchups remaining this week to close out the regular-season series, New York owns a rather insurmountable 6½-game lead over Boston (and the bigger question is whether the Knicks can fend off the Nets, who are 2 games back). Even still, there's plenty of pride on the line Tuesday night, especially for two teams that might cross paths in the postseason. "Being that this is a team you may face in the playoffs, you get a chance to beat them a couple more times, it really takes away a team's confidence going into the playoffs. So that's got to be a little extra motivation," said captain Paul Pierce.
* SYNERGY SNAPSHOT: The Knicks rank sixth in the league, offensively, averaging 0.963 points per play, according to Synergy Sports data. Of all players with at least 350 offensive plays this year, New York has two of the top three spots with Steve Novak (1.184 points per play) and Tyson Chandler (1.155 ppp). Carmelo Anthony doesn't show up until 57th on that list (1.002 ppp) but it's no secret what he can do on the offensive end. Defensively, the Knicks rank 19th allowing 0.938 points per play. Not surprisingly with Chandler in the middle, the Knicks rank first in post defense (0.748 ppp), but teams have feasted on shoddy perimeter defense from the likes of JR Smith (0.926 ppp, 22nd percentile), Raymond Felton (0.965, 12th percentile), and Jason Kidd (0.94 ppp, 18th percentile).
* POINT GUARDS VS. NO POINT GUARDS: The Knicks are overflowing with ball-handlers, leaning on a Felton-Pablo Prigioni starting backcourt (with Jason Kidd in reserve). Multiple ball-handlers will serve New York well against Boston, potentially negating the defensive pressure of Avery Bradley. Quipped Celtics coach Doc Rivers: "The one thing I can guarantee is that we're going to use no point guards. Because we don't have one. It's going to be our guards versus their point guards. But it's been a good mix for them when they've done it." Courtney Lee's ankle injury (he sat out Saturday's game in Memphis) could leave Boston thin.
* PLAYING WITH CONFIDENCE: The Celtics are mired in a four-game losing streak and their confidence might be shaken a bit. Said Pierce: "I think [the team confidence has] kind of [been] up and down. I think really discouraged, you see the look on guys' faces, and I think that has something to do with the injuries. When Kevin went down and Courtney Lee going down, sometimes it just wears on you, mentally, because that's pretty much how the season's been going for us. It seems like we can't catch a break with the injury bug. But sometimes, some way, somehow, we've got to pick ourselves back up. It's been kind of devastating with the injuries so far, but we've got to find a way to persevere and fight through it."