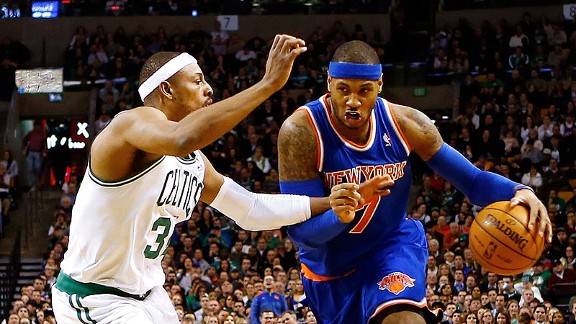 Jared Wickerham/Getty Images
Paul Pierce applies defense to Carmelo Anthony on Tuesday night at TD Garden.BOSTON -- Rapid reaction after the New York Knicks defeated the Boston Celtics 100-85 on Tuesday night at TD Garden:


THE NITTY GRITTY
J.R. Smith poured in a game-high 32 points on 13-of-24 shooting (hitting just one 3-pointer as part of his outburst), while Carmelo Anthony overcame 10-of-30 shooting to add 29 points to pace a Knicks offense that became the third straight team to put up triple figures against Boston. Jeff Green scored a team-high 19 points to go along with 10 rebounds and 6 assists in 39 minutes while starting for Kevin Garnett (ankle inflammation). Paul Pierce added 16 points, 6 rebounds and 6 assists, while Jordan Crawford added 14 points while starting in place of Courtney Lee (ankle sprain).
TURNING POINT
The game was tied little more than four minutes into the second quarter, but the Knicks embarked on a 14-0 run that featured a pair of 3-pointers from Steve Novak, the second of which had the visitors out front 49-35. Boston went nearly four full minutes without points, but only missed three shots in the stretch (turning the ball over three times, leading to seven points for the Knicks). The lead never dipped to single digits in the first half and was still at 14 at the intermission (58-44). The Celtics trimmed the lead as low as seven with a little charge early in the third quarter, but Smith's triple to end the frame had New York out front 84-69.
SMALL LINEUP, BIG PROBLEMS FOR C'S
The Celtics went small trying to keep their most talented players on the floor, but it bit them on the glass. The Knicks piled up 27 second-chance points behind 15 offensive rebounds. Surprisingly, Doc Rivers didn't give either Shavlik Randolph or DJ White a look up front for much of the game. During pregame, Rivers had noted, "Shav and DJ, one or both will play. And maybe we'll find something out with one of those two guys going into the playoffs that we didn't know. So you always have to try to find a silver lining and maybe that would be it." Randolph played the final five minutes, grabbing three boards.
TURNOVERS PLAGUE BOSTON AGAIN
A Celtics team that has been plagued by sloppy ball-handling the last few games gave the ball away 20 times on Tuesday night. The Knicks parlayed that into a mere 15 points, but those lost opportunities -- combined with all the offensive rebounds -- led to the Knicks shooting 21 more shots than Boston on this night.
WHAT IT MEANS
If these last two games are any indication of what it's going to be like without Garnett for the next two weeks, buckle up, it's going to get bumpy. The Celtics visit Cleveland on Wednesday night before returning home to host the Hawks on Friday. An Easter rematch with the Knicks looms on Sunday in New York.