BOSTON -- Celtics coach Doc Rivers playfully suggested that Jordan Crawford could be a charter member of the NBA's "All-Scare Team," with his shot-making ability enough to frighten opposing coaches and his bouts of erratic play enough to make Rivers cringe at times.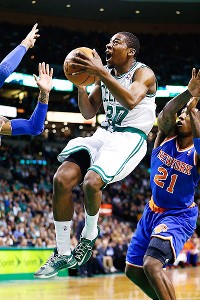 Jared Wickerham/Getty Images
Celtics guard Jordan Crawford played a team-high 41 minutes vs. the Knicks.Crawford fit that bill during Tuesday's 100-85 loss to the New York Knicks, playing a team-high 41 minutes and finishing with 14 points on 5-of-11 shooting to go with four rebounds and six assists, though he tied Paul Pierce for a team-worst six turnovers. This is essentially who Crawford is, and Rivers maintained his stance that he won't do much to try to mold him in any specific way so late in the season.
"I don't want to get in his way," Rivers said before Tuesday's game. "We don't have time to change him or coach him to a point where he fits the exact role or way you want him to play. When you get a player this late in the year, you just tell them, 'Just go play. I won't get in your way. If you're doing something too much, I'll let you know.' But I don't want to get in his way at all. I want him to go out and just play, be him, and if there's something we don't like, we'll take him out. But I just want him to play free."
Starting in place of the injured Courtney Lee, Crawford took advantage of that freedom early, scoring nine of his 14 points in the first frame, emerging as Boston's primary source of offense over the opening 12 minutes.
While not looking to hamper Crawford's offensive freedom, Rivers did weigh in with some matchup advice when he saw Jason Kidd pick up Crawford late in the first quarter. Crawford responded by attacking Kidd in the post and in the lane, converting difficult back-to-back fadeaway jumpers in the closing minutes of the frame that gave Boston a short-lived lead.
"Doc definitely wants us to find matchups on the court, no matter who's checking who," Crawford said. "He told me to go at (Kidd) a couple times, so it's kind of Doc telling you whoever is on who, attack them and play off of that."
While Crawford couldn't maintain his fierce scoring clip for the remainder of the game, he did showcase a play-making ability that sometimes gets swept under the rug amid his scoring outbursts.
Often his willingness to make plays for his teammates actually contradicts his tendency to play out-of-control. Occasionally he'll storm toward the basket when three defenders are waiting for him, and other times he'll do what he did early in the third quarter, when he received a Jeff Green outlet pass, started the break and flipped a blink-and-you-missed-it behind-the-back feed to Brandon Bass for a running slam.
"The one thing (Crawford) does so much better than he has ever gotten credit for -- or maybe he did, I don't know, because I wasn't in Washington -- he's a far better passer," Rivers said. "I mean, he sees things that only a point guard can see. Sometimes he makes that pass, unfortunately, and no one else sees it. But he's a play-maker. He's more than just a scorer and I honestly didn't know that, so that's been a refreshing surprise."
As productive as Crawford was at times during Tuesday's loss, he didn't run from the negatives. His six turnovers came as part of a stat line that saw him finish minus-11 in plus/minus, though that was par for the course for the entire Boston roster.
"I think it's more just being lackadaisical with the ball, not valuing every possession, and we've got to get better at that," Crawford said of Boston's 20 turnovers.
The good will continue to come with the bad for Crawford, but Rivers is hoping that when it's time for the scare tactics to set in, it's the opposing coach and team who are more frightened.