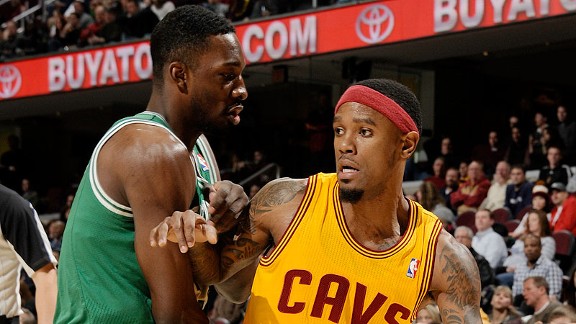 David Liam Kyle/NBAE/Getty Images
Jeff Green and the Celtics will look to stop a five-game skid in Cleveland on Wednesday.The Boston Celtics (36-34, 12-23 away) visit the Cleveland Cavaliers (22-47, 13-21 home) on Wednesday night at Quicken Loans Arena. Here's what to watch for:


* BATTLE OF ATTRITION: You could cobble together a pretty solid team comprised of players that won't be on the floor Wednesday night. Celtics coach Doc Rivers sounded pessimistic when asked if Courtney Lee (ankle) would be available, while Kevin Garnett (ankle) is on the shelf for two weeks (this on top of previous season-ending injuries to Rajon Rondo, Jared Sullinger, and Leandro Barbosa). For Cleveland, neither Kyrie Irving (shoulder) nor Dion Waiters (knee) will be in uniform (this after losing Anderson Varejao earlier in the year). The Cavaliers watched the Heat rally from 27 down to prolong their winning streak last week, then Cleveland got its doors blown off in Houston while losing by 38 to the Rockets.
* SYNERGY SNAPSHOT: The Cavaliers rank 19th in the league, offensively, averaging 0.904 points per play, according to Synergy Sports data. Irving and Waiters have combined for nearly 30 percent of the team's total offensive plays this season, which leaves Tristan Thompson (0.921 ppp, 59th percentile) and Alonzo Gee (0.866 ppp, 40th percentile) as the focal points of the offense without them. A backcourt of Shaun Livingston and Wayne Ellington (combined 27 points on 11-of-23 shooting) shouldered the offensive load last time out in Houston. Defensively, the Cavaliers rank 27th while allowing 0.965 points per play. Thompson has held his own (0.842 ppp, 61st percentile), but teams have feasted on Gee (0.968 ppp, 10th percentile) and Tyler Zeller (0.975 ppp, 9th percentile).
* BACK-TO-BACKS IN FOCUS: The Celtics are 9-9 on the second night of back-to-backs this season, including a 5-9 mark on the road. They did upend the Cavaliers on the tail end of a back-to-back on Dec. 19, but that was in Boston. This is the 19th back-to-back of the season and the Celtics have three more of these remaining on the schedule over the final 12 games.
* THE ROAD TO RECOVERY: The Celtics haven't just dropped five in a row overall, they've lost their last five on the road as well. Boston desperately needs to get on track, but doing so away from TD Garden would be a bit of a bonus. Even with all their injuries, the Celtics need to be ramping up over the final three weeks of the regular season, instead they are regressing at an alarming rate. This is a winnable game, particularly with Irving nowhere in sight, and Boston simply needs to get back to the basics: Playing consistent defense and valuing the ball. Everything else should fall into place from there.