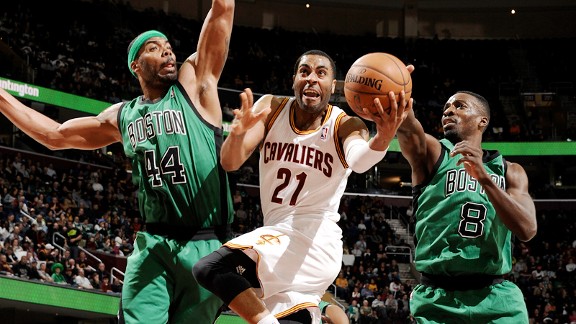 David Liam Kyle/Getty Images
The Celtics needed a big rally to prevail in Cleveland on Wednesday night.Rapid reaction after the Boston Celtics defeated the Cleveland Cavaliers 93-92 on Wednesday night at Quicken Loans Arena:


THE NITTY GRITTY
Jeff Green scored 21 points and converted a layup at the buzzer as the Celtics rallied from 14 down in the second half to steal a win in Cleveland and snap their five-game losing streak. Brandon Bass scored a season-high 22 points on 8-of-14 shooting, while Paul Pierce finished with 19 points, 10 rebounds and 8 assists (helping to negate seven careless turnovers). Jordan Crawford added 12 points off the bench, providing a second-half spark to aid the comeback effort. Wayne Ellington scored a team-high 16 points on 7-of-16 shooting for the Cavaliers, who put six players in double figures, including CJ Miles and Marreese Speights with 13 points apiece off the bench.
TURNING POINT
The Celtics were down 10 with less than six minutes to go, but an 11-2 run that culminated with an old-fashioned three-point play by Green had the Celtics within a point at 90-89. Boston missed two chances to pull ahead -- Green getting mugged near the basket with 55 ticks to go, which infuriated the Celtics' sideline -- and Miles made a pair of free throws at the other end to push the lead to three. Unfazed, Pierce hit a jumper in the lane and Boston got a defensive stop giving them a chance to pull ahead with 9.2 seconds to play. The first opportunity got knocked out of bounds, but a review of the clock gave timeout-less Boston a chance to draw up another play with 2.1 seconds to go and Green attacked through traffic for the win.
12 UP, 12 DOWN
Despite leading by as much as 12 in the first half, Boston soon found itself down 12 shortly after the intermission. Jordan Crawford provided a late third-quarter spark as Boston made it a one-possession game, but Cleveland's first three makes of the fourth quarter were all from beyond the 3-point stripe and back-to-back buckets by Speights had the Cavaliers up 86-72 with 8:08 to play. The Celtics wouldn't roll over, however.
WHAT IT MEANS
While a team with championship aspirations shouldn't get too hyped about winning against a Cleveland team playing without its three best players, this was a much-needed victory for Boston -- and the way it played out should do wonders for a Celtics team in need of a confidence jolt. How appropriate that the winner was delivered by Green, who had heart surgery in Cleveland 14 months ago and had his surgeon sitting courtside (stopping on his way back to the locker room to chat him up). The Celtics get a bonus as the Milwaukee Bucks, losers of four straight after falling in Philadelphia on Wednesday, are now 2½ games back in the race to avoid the eighth seed in the Eastern Conference. Boston is off Thursday before hosting the Hawks on Friday, then it's a visit to the Knicks on Easter Sunday.