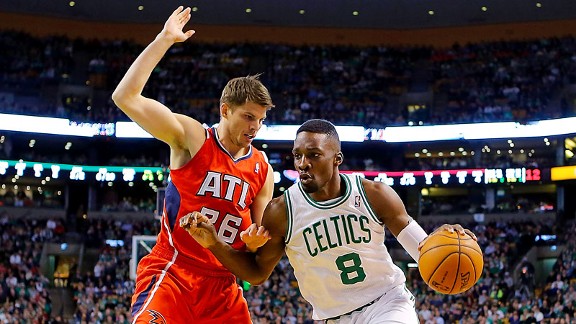 Jared Wickerham/Getty Images
Jeff Green and the Celtics will look to get past the Hawks on Friday.The Boston Celtics (37-34, 24-11 home) host the Atlanta Hawks (40-32, 18-19 away) on Friday night at TD Garden (7:30 p.m., CSN). Here's what to watch for:


* JOCKEYING FOR POSITION: The Hawks own a 2½-game lead over Boston entering Friday's game and their remaining schedule will make it tough for the injury-riddled Celtics to make a push for the No. 6 seed. Of Atlanta's final nine games, six are against teams under .500 and five of those are at home. A Celtics win Friday wouldn't just pull them a game closer, it would give them the head-to-head tiebreaker as the Celtics enter with a 2-1 mark against the Hawks (the only loss being the double overtime debacle in Atlanta where Rajon Rondo tore his ACL in late January).
* SYNERGY SNAPSHOT: The Hawks rank ninth in the league, offensively, averaging 0.944 points per play, according to Synergy Sports data. The Hawks are an excellent team on the run, ranking third in the league in fastbreak points (17.6 per game) and fifth in transition offense (1.181 points per play). As usual, the Celtics will have to put a heavy focus on Kyle Korver, who averages 1.151 points per play, ranking third among all players with at least 350 offensive possessions this season (only Steve Novak and Tyson Chandler of the New York Knicks have been more efficient). Defensively, the Hawks rank 12th at 0.915 points per play. The frontcourt tandem of Al Horford and Josh Smith has posted solid individual defensive numbers, but opponents attack guard Jeff Teague (0.929 ppp, 21st percentile).
* BACK TO SMALL BALL? The Celtics went big in Cleveland, moving Chris Wilcox into the starting lineup in a frontcourt that included Jeff Green and Brandon Bass. Boston might be inclined to go small again -- particularly if Courtney Lee's ankle is healthy enough to get him back on the floor. The Hawks rank 26th in total rebound percentage and don't attack the offensive glass very hard (27th in offensive rebound rate). Then again, Boston went small against the Knicks, who were 20th in the league in offensive rebound rate, and paid the price on Tuesday at TD Garden. Shavlik Randolph deserves a longer look, even if it's just in one-big-man lineups, given his activity recently on the glass.
* GET A LEAD, KEEP A LEAD: The Hawks have made a habit of rallying against Boston this season. Atlanta was down 27 to the visiting Celtics before coming back to win in double overtime back on Jan. 25. Earlier this month in Boston, the Hawks overcame a 12-point, fourth-quarter deficit to force an extra session before the Celtics emerged. Boston has been playing from behind a lot lately and, battling injuries, would benefit from not having to make a charge from yet another double-digit deficit (as the Celtics did in rallying from 14 down in Cleveland on Wednesday).