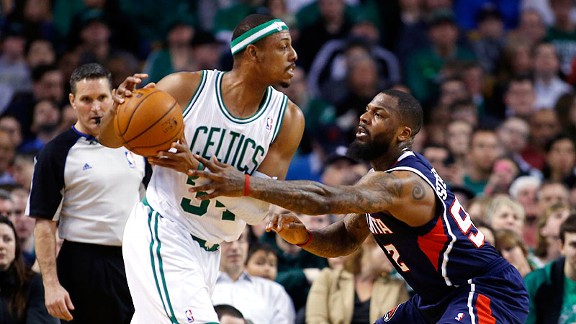 Greg M. Cooper/USA TODAY Sports
Celtics captain Paul Pierce handles the ball against the Hawks on Friday night.BOSTON -- Rapid reaction after the Boston Celtics defeated the Atlanta Hawks, 118-107, on Friday night at TD Garden:


THE NITTY GRITTY
Jeff Green followed up his buzzer-beater heroics in Cleveland by scoring a team-high 27 points, Jason Terry erupted for 24 points while connecting on five 3-pointers, and Paul Pierce posted his third triple-double of the season (and 10th of his career) with 20 points, 10 rebounds and 10 assists to lead one of Boston's best offensive outings of the season. Oh, and Shavlik Randolph came off the bench to post nine points and a career-high 13 rebounds over 22 minutes. The Al Horford-less Hawks got a team-high 19 points from reserve Mike Scott, while Josh Smith added 18 points but labored through 7-of-23 shooting.
TURNING POINT
Despite the sustained offensive attack, the Celtics were only up six after a Kyle Korver layup with 7:33 to play. A little 7-0 run gave Boston, which had led by as much as 15, some much-needed breathing room. Brandon Bass hit a jumper, Avery Bradley's steal led to a Terry triple, and a Green jumper had the Celtics out front, 107-94, with 5:08 to play.
SHAV FREED
Randolph's recent play screamed for more floor time and, rewarded with extended action, he shined around the basket. Seven of Randolph's game-high 13 boards were on the offensive end, and he was plus-12 on the night. He finished with 4-of-6 shooting, but a missed freebie cost him his first career double-double.
FIRST-HALF OUTBURST
The Celtics erupted for 66 points in the first half, shooting 56.8 percent from the floor and knocking down eight triples (half of those coming from Terry, who had a team-high 16 points before the intermission). It was the Celtics' biggest first-half output of the season (they had scored 59 points in the first half twice this season) and the largest output of any half (topping the 63 points posted in the second half against Toronto on March 13).
LEE RETURNS TO ACTION
After missing three games due to a sprained left ankle, Courtney Lee returned in a reserve role against the Hawks. He subbed in for Pierce with 2:46 to play in the first quarter and quickly registered a block. Lee played just six minutes, chipping in two points, a rebound and a block.
WHAT IT MEANS
The Celtics have won two in a row to pull within a game-and-a-half of the Hawks in the race for the sixth seed in the Eastern Conference. A ton of positives to pluck from this game for Boston, though second-chance opportunities allowed the Hawks to hang around. The Celtics now head out on a brief two-game road trip, a back-to-back with visits to the Knicks (Sunday) and Timberwolves (Monday).