BOSTON -- Boston Celtics point guard Rajon Rondo -- lost for the season after undergoing surgery to repair an ACL tear in his right knee -- was back in Boston on Friday and got as close to the action as he possibly could, sitting on the Celtics' bench between the coaching staff and his teammates for the entirety of Boston's 118-107 victory over the Atlanta Hawks.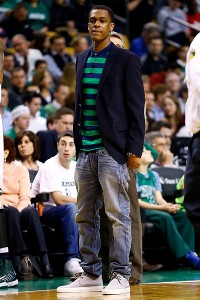 Jared Wickerham/Getty Images
Rajon Rondo on the sideline for the Celtics on Friday night.Rondo suffered the injury in a Jan. 25 overtime loss to the same Hawks team and underwent surgery midway through February. Rondo sought to evade reporters as he exited the team's locker room after the game and, when asked by ESPN Boston for a status update, he offered a brief: "I'm good."
Pressed on whether he'd be available for the start of training camp for the 2013-2014 season, Rondo said: "I don't have any set date [for a return]. I'm taking it one day at a time."
He might not be able to make an impact on the court at this juncture, but Rondo's presence alone was enough to make something of a difference on Boston's sideline on Friday night.
"It was nice [having Rondo on the bench]," coach Doc Rivers said. "He told us today he was coming in, and it was good to have him back around. He's moving OK. You know, it's funny, I'm looking at it knowing he's nowhere near [playing again], but that's the first thing you look at. Having gone through that experience, we sat and talked about a lot of the stuff you have to go through. So it brought back these horrendous memories, actually. But he's -- from his doctors -- they say he's doing tremendous."
Added Paul Pierce: "It's good to get [Rondo] around the guys, to see some of his new teammates. Who knows, a lot of these guys might be here for him next year. It's good for him to get acquainted with them. He's done his surgery, he seems to be in good spirits, so it's good to see him."
That feeling appeared mutual, as Rondo -- sporting jeans, a navy blazer and a slightly longer haircut (Jeff Green joked that Rondo has "a little 'fro now") -- seemed to be in good spirits as he took in Friday's game. Rivers and Pierce weren't the only ones excited to have their point guard back in the fold. Rondo's presence was a welcome one throughout the entire locker room.
"First of all, it was just good seeing him," said Avery Bradley. "I haven't seen him in a while. But having him there on the bench with us felt good. Felt like we had our captain back, so it was a good feeling to see him."
Green later added: "It was fun, it was good to see him. We haven't seen him since he had the surgery, so it was good to see him. ... I'm glad he's doing well. You just wish he was on the court, but it was good. I think it was a big emotional boost for us to have him on the bench with us."
As grateful as his teammates were to have him back around, Rondo is likely basking in the support they've been giving him. That support will be crucial over the next several months, as he undergoes the rehabilitation process and attempts to work his way back to All-Star form. Rivers, having suffered an ACL tear before, knows Rondo is in for a difficult road ahead, but praised his commitment to the process.
"I don't care who you are, especially if you're on a team sport -- I think these types of injuries are very lonely," said Rivers. "Very hard. Because rehab is all by yourself with some stranger. And you're away from your team. Just brutal rehab. That's what it is. He's been in [Florida] and that's tough. His family has been going back and forth. But he's made the commitment and he's been great."