Jason Terry has admitted that his first season with the Celtics hasn't been as smooth of a ride as he was anticipating when he signed with Boston last summer.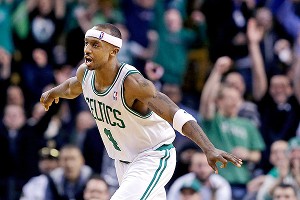 AP Photo/Elise Amendola
Is Jason Terry starting to take flight for Boston?Through 72 games, Terry has averaged somewhat underwhelming numbers of 10.3 points and 2.5 assists on 43.8 percent shooting. But the ever-confident guard isn't letting a lukewarm regular season dampen his spirits as the postseason approaches.
Terry's new focus, much like the team's as a whole, is gearing up for another playoff run, and with only 10 games left on the schedule, he got himself off to a strong start in Friday's 118-107 victory over the Atlanta Hawks.
Terry posted 24 points on 7-of-10 shooting, including a 5-for-7 mark from 3-point nation, spearheading a bench effort that contributed to one of Boston's highest scoring outputs of the season.
It was a welcome show of offensive force from Terry, who's shot just over 43 percent for the month of March. It was only the fourth time this season he's eclipsed the 20-point mark in a game, and just the second time he's made at least five 3-pointers. The Celtics certainly wouldn't mind seeing more of those numbers in the near future with the postseason right around the corner.
"Well, this is the time of the year that you want to get ready for the playoffs," Terry said. "So I just told myself, be aggressive ... as long as we execute, somebody is going to get a good shot. That's where our emphasis is at, we're solely, we're not looking to just get one guy going. If we move the ball the way we're capable of, somebody is going to reap the benefit, tonight it just happened to be me."
His marksmanship from distance on Friday vaulted him over the 1,900-career 3-pointers plateau, making him just the fourth player in NBA history to do so. Terry, now fourth in NBA history in made 3-pointers, joked that he needs to stay ahead of Paul Pierce, who holds sixth place.
"Well, me and Paul talked before the game and he took over [sixth] place, so I said I have to keep him off my neck and continue to shoot them at a high clip," Terry said. "Hard work, dedication, longevity, just continue to work on my craft. In the names of greatness, I just gotta keep shooting."
Terry tied Jeff Green for a team-high seven points in the fourth quarter on Friday, as the Celtics relied on their offense more than their defense to close out the Hawks. With Atlanta down only eight with just under six minutes to play, a mad scramble for a loose ball resulted in Green gaining possession, and he zipped a skip pass over to Terry, who stepped into a rhythm 3-pointer and pushed Boston's lead back up to 11.
Head coach Doc Rivers credited Terry's strong outing to a renewed effort to get him involved on the offensive end. His 10 field goal attempts were the most he's taken in a game since March 8 -- against the same Hawks team.
"Just a matter of making shots. We did run a lot of actions for him," Rivers said. "The 3-2 [screen action between Terry and Pierce] --I thought they did a great job tonight, playing games with it. I honestly thought we had gotten away from it over the last four to five games. We talked about that this morning, we have to get back to running that action -- it was an early-season action that was good for us and we've gotten away from it for whatever reason, I don't know why we did. We worked on it this morning, and I thought that got us free. And then [Terry] doesn't need much."