The fact that Boston's first offensive possession during Friday's visit from the Atlanta Hawks ended with an Avery Bradley drive was no accident. The Celtics have been looking to snap Bradley out of his recent offensive funk and ran a rare designed play for him out of the gates.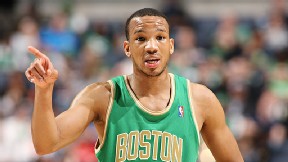 Kent Smith/NBAE/Getty Images
Celtics guard Avery Bradley is battling his way out of an offensive funk.Coming off a Pierce screen on the right wing, Bradley turned the corner and ended up at the charity stripe for two freebies when he was fouled attacking the basket. One of Boston's goals, particularly with Kevin Garnett sidelined for two weeks, is to get individual players firing on all cylinders before the postseason.
And getting Bradley back on top of his game at both ends of the floor is crucial to Boston's postseason success, hence why Rivers went right to him.
"I didn't care if he scored or got to the foul line, he needed to see the ball go in the basket," said Rivers. "I thought that was good for him."
Bradley added a steal/layup combo early in the first quarter, and a long outlet pass from Paul Pierce got him another layup later in the frame. The Celtics are hoping a few easy buckets will take some of the stress out of his recent shooting woes.
Bradley finished with eight points on 3-of-7 shooting with four assists, four steals and a block over 26 minutes against the Hawks. In the six games prior to Friday's visit from Atlanta, Bradley was 16-of-59 shooting overall (27.1 percent) and had missed 12 of his last 15 3-pointers in that span. He was minus-33 in plus/minus during those six games, which included a five-game losing streak.
"I haven't been able to make many shots lately, but to see the ball go in the hoop, that's always good," Bradley said of his early offense on Friday. "It got me rolling. But at the end of the day, I gotta just continue to keep my confidence. I know my teammates have confidence in me. I'm going to play hard no matter what, even if I'm making shots or not."
While it's not as pronounced of a slump, Bradley has seen his defensive numbers dip ever so slightly recently. Over that same six-game span of offensive struggles, his individual defensive numbers saw him allow 0.755 points per play, according to Synergy Sports data. That's still top-10 caliber defense, but Bradley leads the league in allowing only 0.69 points per play overall (among all players with at least 375 defensive possessions). Opponents still shoot a league-worst 30.7 percent against Bradley and score on him on 31.8 percent of all possessions (also tops in the league).
Bradley endured a prolonged shooting slump at the start of his NBA career, but emerged last season, fueling his ascension to a starting role. Rivers has previously noted they've got to get Bradley back on track this year.
"Listen, Avery is trying his best," Rivers said earlier this week. "His shot is struggling right now. He can shoot the ball, but when you're thinking about it -- he's clearly going through something. We're going to try to have to get him through that, especially with all the guys out now. We're going to need him to be effective. I'm probably going to have to do something to get him going more, not less. But I feel for him. He wants to play hard, he wants to play right, but you can see it. We'll get him going."