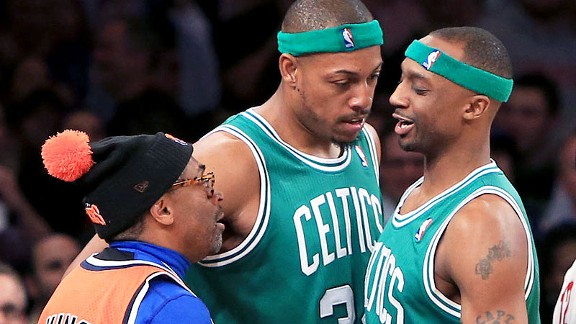 Debby Wong/USA TODAY Sports
Jason Terry and Spike Lee can renew acquaintances on Sunday in New York.The Boston Celtics (38-34, 13-23 away) visit the New York Knicks (45-26, 26-10 home) on Sunday evening at Madison Square Garden (7:30 p.m., CSN). Here's what to watch for:


* PLAYOFF PREVIEW?: With Kevin Garnett sidelined due to left ankle inflammation, these two late-season Celtics-Knicks battles are not nearly as intriguing. But this might not be the last time the Atlantic Division foes cross paths. The Knicks could land seeds No. 2 or 3, while Boston is likely to land at No. 6 or 7, which could set up a first-round matchup. Winners of seven straight, including Tuesday's game in Boston, the Knicks have essentially cemented themselves as division champs (ending the Celtics' five-year reign), but Boston has played some of its best basketball at Madison Square Garden and surely wouldn't be overwhelmed by a playoff meeting. That said, the Celtics need a better effort than what they displayed on Tuesday night or the Knicks would have a tremendous amount of confidence heading into a postseason series.
* VALUE THE BALL: Ball security is a familiar topic in this space, but against a team like New York it simply has to be stressed again. Part of what has allowed the Knicks and their 3-point-heavy offense to thrive this season is that they take insanely good care of the ball, turning it over an NBA-low 13.2 percent of the time (the next closest team is Philly at 14 percent). The Celtics, who are tied for 11th in turnover percentage (15.3 percent), have been prone to fits of giveaways, but can't get careless against a Knicks team that is unlikely to do the same. Avery Bradley had some troubles with pressure from the likes of Pablo Prigioni (though Boston can negate that, defensively, by getting stops and limiting New York's ability to pressure after makes).
* REBOUNDS, REBOUNDS, REBOUNDS: The Celtics were competitive on the glass overall during Tuesday's game in Boston, but New York annihilated them with offensive boards and second-chance points. The Knicks had 15 offensive rebounds, which helped them put up a staggering 90 shots -- 21 more than Boston attempted. The Celtics need to limit second-chance opportunities and this is the sort of night they really need all their players committed to the glass. The strong recent play of Shavlik Randolph could earn him extended time in hopes of giving Boston a needed boost on the glass.
* WHO'S GOT JR?: Knicks reserve guard JR Smith posted 32 points on 13-of-24 shooting on Tuesday night, easily outscoring Boston's entire bench (19 points on 7-of-16 shooting). The Celtics did a decent job on Carmelo Anthony (29 points on 10-of-30 shooting), but can't allow Smith to go off like that, particularly when his output included just one 3-pointer. Boston did have a solid effort defending the 3-point stripe overall on Tuesday (8 of 28, 28.6 percent), but that's only effective when you eliminate the offensive rebounds.