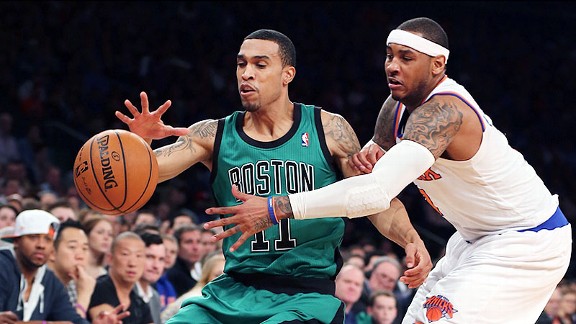 Elsa/Getty Images
Courtney Lee looks to chase down the ball as Carmelo Anthony pursues.NEW YORK -- Rapid reaction after the New York Knicks defeated the Boston Celtics 108-89 on Sunday night at Madison Square Garden:


THE NITTY GRITTY
Chris Copeland (22 points) and Raymond Felton (18 points) keyed New York's 3-point barrage, each canning a trio of triples, while Carmelo Anthony added 24 points on 9-of-19 shooting to go along with 10 rebounds, 3 assists and 2 steals. The Knicks shot 48.6 percent overall and 51.9 percent beyond the 3-point arc, putting six players in double figures. Jeff Green scored a team-high 27 points on 10-of-14 shooting, while Paul Pierce filled up his stat line with 24 points, 15 rebounds and 5 assists, but were the only two Celtics to really show up on this night. With less than five minutes to go in the game, Boston's other three starters -- Avery Bradley, Brandon Bass and Chris Wilcox -- were a combined 3-for-11 for six points.
TURNING POINT
The Knicks shot a staggering 68.8 percent beyond the 3-point arc in the first half, connecting on 11 of 16 triples. The long-distance barrage culminated with Felton banking home a buzzer-beating, halfcourt heave to send New York into the intermission up 65-48, the Knicks' biggest lead of the night to that point. New York finished 14-of-27 shooting beyond the arc.
TECHNICAL DIFFICULTIES
Celtics coach Doc Rivers got tagged with a technical foul after rushing to midcourt to argue against a blocking foul on Avery Bradley midway through the second quarter. For Rivers, it was his seventh tech of the season, tying him for the team lead with Kevin Garnett.
PIERCE ICES 'SORE' ANKLE
Pierce subbed out with 65 seconds to play in the third quarter and spent the entire fourth quarter icing what the team termed a "sore" right ankle on the bench. Pierce did not look hobbled while greeting Knicks players while walking off the floor after the game.
BRADLEY STILL SLUMPING
Bradley's slump continued in New York, where foul trouble limited his floor time. He picked up two fouls in the span of 65 seconds in the second quarter (the second of which elicited Rivers' ire) and two shooting fouls in the third quarter left him with five with more than 17 minutes to play in the game. With the Knicks running away, Bradley came back looking to get himself going, but finished with two points on 1-of-5 shooting before fouling out late.
WHAT IT MEANS
Boston cleaned up some areas of concern from Tuesday's loss to New York at TD Garden, but the Knicks were locked in beyond the arc and burnt Boston from distance. New York took three of four from Boston this season and won the season series (and will soon lock up the Atlantic Division title). The Celtics have little time to lick their wounds and fly to Minnesota for the second night of a back-to-back on Monday against the Timberwolves. A four-game homestand awaits after that with visits from Detroit, Cleveland, Washington and Brooklyn.