NEW YORK -- After missing three games due to a sprained left ankle, Boston Celtics guard Courtney Lee returned to action in Friday's win over the Atlanta Hawks, but was limited to six field goal-less minutes in what amounted to a "see how it feels" experiment.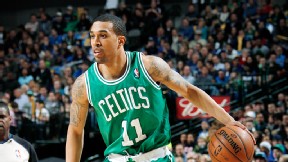 Glenn James/Getty Images
Celtics guard Courtney Lee is working his way back from a sprained left ankle.That same method was in effect for Sunday's matchup with the New York Knicks, though the results were far more favorable, despite the Celtics dropping a 108-89 decision at Madison Square Garden.
Lee scored 10 points on 5-of-11 shooting and grabbed four rebounds over 27:58 of encouraging floor time during Sunday's loss. More importantly, he didn't appear limited in any way, which spells good things moving forward as he'll seek to reestablish his rhythm heading into the postseason.
"I kind of forgot about (the ankle)," Lee said. "When I'm out there, I'm definitely frustrated by how the game's going and the last thing that I'm thinking about is my ankle. I was trying to find ways to get back into the game, but it feels good. It's fine."
Coach Doc Rivers said before the game that the eye test would serve as his gauge for Lee's minutes, and clearly he felt comfortable with what he was seeing.
"I thought he was much better," Rivers said. "I thought he played with better speed and force."
Lee was hoping to get more time during Friday's win, but an awkward collision with Hawks guard Dahntay Jones resulted in the ankle flaring up again, and Rivers pulled him for good soon after. He came off the bench again on Sunday, but -- assuming the ankle responds well to the bump in minutes -- it's not a stretch to imagine he'll be back in his usual starting role as soon as Monday's visit to the Minnesota Timberwolves (where Paul Pierce might get a day off to rest a sore right ankle).
The most encouraging sign for Lee during Sunday's loss came minutes into the second quarter, when he sprinted down the floor and rose up to finish off an alley-oop from Jordan Crawford. Though he admitted the impact from landing after the dunk might result in some soreness, Lee saw the play as something of a confidence booster.
"If I'm feeling good, I'm capable of doing that," Lee said. "I felt good at the beginning of the game, and of course I'm not used to jumping and being up that high and coming down with that much impact. So it was the first time for that, so it's definitely going to be a little sore, but other than that it's fine."
Rivers pulled Lee midway through the fourth quarter, hoping it would be for good. He didn't want to sit Lee for a stretch, have the ankle stiffen, and then re-insert him into the game. But when Avery Bradley fouled out with just more than two minutes remaining and the game far out of reach, Rivers was forced to send Lee back into action.
"I really didn't want to put him back in because that's how you get injured, the last four minutes of rat basketball," Rivers said. "Unfortunately, Avery fouled out, so we had to put him in. Just told him to stay out of the way."
Rivers shouldn't be telling Lee to stay out of the way for much longer, though, as Sunday's loss was a steady indication that he and his healing ankle are rounding back into form.