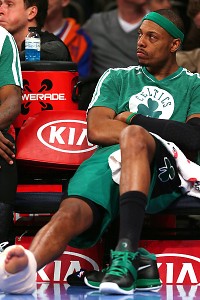 Elsa/Getty Images
Paul Pierce ices his ankle on the sideline during Sunday's game against the Knicks.NEW YORK -- Boston Celtics swingman Paul Pierce sat out the final 13 minutes of Sunday's lopsided loss to the New York Knicks and iced what the team termed a sore right ankle on the bench.
While Pierce, who finished with 24 points, 15 rebounds and 5 assists over 32:21, said he wasn't overly concerned with the injury, coach Doc Rivers hinted strongly that he'll sit the captain on the tail end of a back-to-back on Monday night in Minnesota.
"It's just a little sore," Pierce said. "I turned it in the first quarter. It shouldn't be a problem."
Informed that Rivers suggested he'll get a night off, Pierce responded, "A possibility. We'll talk tonight."
After noting that Pierce had said he was fine, Rivers said, "We're going to give him a rest, we're going to sit him games, for sure. Very soon."
Pressed on if that meant Monday's game, Rivers answered, "Probably."
The Celtics have been plagued by ankle woes with Kevin Garnett sidelined for two weeks with left ankle inflammation, while Courtney Lee is working his way back from a left ankle sprain that sidelined him for three games.
Pierce said the team has to grind through these final nine regular-season games.
"You've got just got get through it," he said. "It's hard to be consistent because of the injuries. We're changing the lineup pretty much every other night. We've just got to get through it. We've got nine games left in the season. We've got to get through them and get ready for the playoffs."