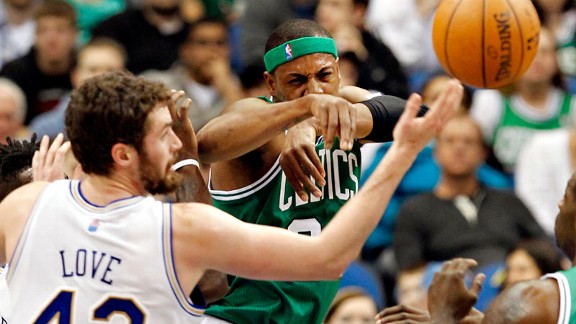 AP Photo/Genevieve Ross
It's Celtics vs. Wolves, even those neither of these guys are likely to be on the floor.The Boston Celtics (38-35, 13-24 away) visit the Minnesota Timberwolves (26-46, 17-19 home) on Monday night at the Target Center (8 p.m., CSN). Here's what to watch for:


* STARLESS NIGHT?: Celtics coach Doc Rivers hinted strongly that he'll sit Paul Pierce on Monday night due a sore right ankle, while Kevin Garnett, while along for this brief two-game road trip, remains on a two-week rest plan due to left ankle inflammation. On the second night of a back-to-back, that could mean some mix-and-match lineups in Minnesota, where the likes of Terrence Williams and DJ White could see extended action. For the Wolves, Nikola Pekovic was questionable with his own ankle woes. The Celtics will get a look at Ricky Rubio, who missed the first meeting in Boston, but is coming off a near triple-double effort against Memphis (23 points, 10 rebounds, nine assists).
* SYNERGY SNAPSHOT: The Timberwolves rank 26th in the league, offensively, averaging 0.888 points per play, according to Synergy Sports data. Minnesota ranks 27th in spot-up shooting and is the worst catch-and-shoot team in the league. Pekovic is the team's most efficient scorer (1.003 ppp, 83rd percentile), but the team spreads out its offensive touches with Kevin Love lost for the season. Defensively, the Timberwolves are middle of the pack at 15th overall allowing 0.931 points per play. They are fifth in the league against spot-up shooting, but injuries have left them susceptible in the post. Jose Juan Barea is the most efficient defender among the top rotation players, allowing 0.782 points per play (84th percentile).
* STIEMSMA IN FOCUS: With many of the stars sidelined, the most intriguing matchup of the night could be old friend Greg Stiemsma jousting with Shavlik Randolph (after Friday's breakout game, Randolph had a tough night in New York) in a battle of backup bigs. Stiemsma, who the Wolves lured away from Boston with their financial flexibility, is averaging 3.9 points, 3.1 rebounds, and 1.1 blocks over 15 minutes per game in 67 appearances (16 starts). His rebounding numbers are down (when the Wolves are healthy, there's more bodies to compete with up there) and his defensive numbers have suffered outside of Boston's system. Stiemsma actually ranked in the 93rd percentile last season, allowing 0.711 points per play (opponents shot just 34.7 percent against him) as he thrived late in the year while often sharing the floor with Garnett. This season in Minnesota? Stiemsma is allowing 0.872 points per play, ranking in the 46th percentile.
* CRUISING TO THE FINISH LINE: Of Boston's nine remaining games, this is first of six against teams currently under .500. In fact, the Celtics' schedule really eases up here and a four-game homestand looms starting with Wednesday's visit from the Detroit Pistons. Even as Boston gets players like Pierce and Garnett some additional rest, these are winnable games that should help the Celtics stand firm at the No. 7 spot (now 2½ games back of Atlanta, which also has a softer remaining schedule, it's going to be tough for Boston to shimmy up).