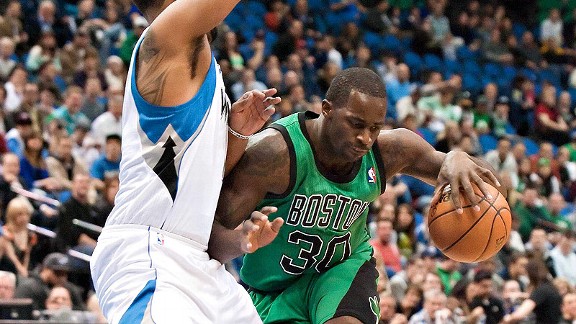 Greg Smith/USA TODAY Sports
Brandon Bass and the Celtics met resistance in Minnesota.Rapid reaction after the Minnesota Timberwolves defeated the Boston Celtics 110-100 on Monday night at the Target Center:


THE NITTY GRITTY
Minnesota center Nikola Pekovic feasted on Boston's depleted frontcourt depth, posting a game-high 29 points on 9-of-15 shooting (21 of those points came in the first half before Boston started trapping after the intermission). Dante Cunningham added 19 off the bench, while Andrei Kirilenko had 17 points on 6-of-7 shooting for the Wolves. Avery Bradley came out aggressive and scored a team-high 19 points on 8-of-14 shooting (an encouraging sign given his recent offensive funk), while Jason Terry and Terrence Williams had 14 points apiece off the pine for a Boston team playing without Paul Pierce and Kevin Garnett.
TURNING POINT
After trailing by as much as 14 in the third quarter, the Celtics trimmed their deficit down to six before the end of the frame. But a little 5-0 burst to start the fourth quarter pushed Minnesota's lead right back to double-digits and it was rarely a game again. Derrick Williams buried a 3-pointer on Minnesota's first possession of the final quarter and Cunningham added a layup as the Wolves opened an 89-78 lead. Boston rarely got it back to single figures the rest of the way.
THE LAST TIME?
The Celtics had won 11 straight over the Timberwolves entering Monday's game, including all 10 meetings between the teams since Garnett was dealt from Minnesota. The Wolves' last win? You'd have to go back to Feb. 11, 2007. Old friend Ricky Davis scored a team-high 28 points and Garnett added 26 points and 10 rebounds to pace Minnesota that night, while Boston got a game-high 29 points from Pierce. Most notably, it was the Celtics' 18th consecutive loss that season, setting a franchise record.
GREEN PLAYS THROUGH PAIN
Celtics forward Jeff Green appeared to get kneed in the thigh on a second-half drive to the basket. He stayed in the game and tried to play through the pain. He had a quiet night overall with 10 points on 5-of-10 shooting with seven rebounds, five assists, and five turnovers in 38 minutes. [Update: After the game, coach Doc Rivers said Green was "fine" and noted that Green, to his knowledge, did just get kneed in the thigh; also updated Green's stat line, which inadvertently had just first half stats originally.]
WHAT IT MEANS
End-of-the-regular-season basketball, it's faaaaaantastic! The Celtics have now lost seven of their last nine and, coupled with Milwaukee's 130+ point outburst against Charlotte, will see the Bucks climb 1½ games back of the seventh seed in the Eastern Conference. Boston has been woeful defensively without Kevin Garnett (left ankle inflammation); take out Paul Pierce (Not With Team -- Personal Reasons) and all hell broke loose at that end of the floor (Boston did put up triple figures without two top offensive weapons, shooting 51.9 percent overall). There's work to be done to protect that seventh spot, but the schedule remains forgiving moving forward. The Celtics return to Boston for a four-game homestand that opens on Wednesday night with a visit from the Detroit Pistons. The focus for Boston without its stars is clearly on individual work, but the inability to steal games against lesser competition -- even without stars -- has to be discouraging while waiting for the postseason to arrive.