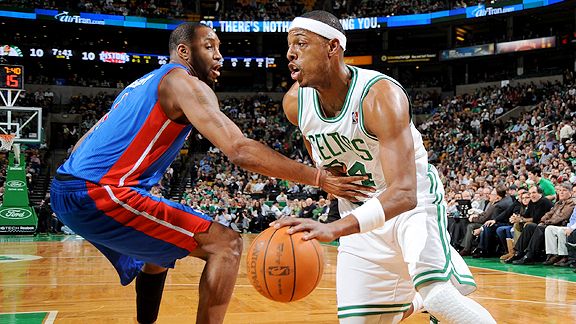 Brian Babineau/NBAE/Getty Images
Paul Pierce and the Celtics open a four-game homestand against the Pistons on Wednesday.The Boston Celtics (38-36, 25-11 home) host the Detroit Pistons (25-50, 10-27 away) on Wednesday night at TD Garden (7:30 p.m., CSN). Here's what to watch for:


* A CHANCE FOR MOMENTUM: The Celtics have lost seven of their last nine and still haven't clinched a playoff berth with eight games to go in the regular season. That could change in a hurry as Boston opens a four-game homestand that starts with three lottery-bound teams in Detroit, Cleveland (Friday), and Washington (Sunday). Boston's magic number is two and it can clinch a playoff spot with a win Wednesday coupled with a Philadelphia loss. The more pressing issue would seem to be fending off Milwaukee, which is just 1½ games back. The Celtics need to take advantage of their schedule and cement their playoff position, even while waiting for Kevin Garnett to return to the lineup.
* SYNERGY SNAPSHOT: Offensively, the Pistons rank 24th in the league averaging 0.894 points per play, according to Synergy Sports data. One thing Detroit does well is utilize the roll man in pick-and-rolls (10th in the league at 1.026 points per play). Boston has struggled with pick-and-roll at times throughout this season and it will be interesting to see how they fare with Jose Calderon dishing to bigs like Greg Monroe and Andre Drummond (both of whom torched Boston the last meeting in Detroit). Defensively, the Pistons also rank 24th allowing 0.952 points per play. They actually defend both isolation (9th in the league) and spot-up shooting well (11th), but their individual numbers are not particularly glossy (Jason Maxiell is the only player that ranks above the 69th percentile among all league players, allowing a team-best 0.802 points per play, which stands in the 78th percentile).
* EYES ON THE GLASS: With athletic bigs like Monroe and Drummond, it's no surprise that rebounding will be a key for Boston. The Pistons rank 10th in the NBA in offensive rebound percentage and Boston has really struggled to deny second-chance opportunities without Garnett. The Pistons also rank 14th overall in total rebound rate.
* WIN THE TURNOVER BATTLE: The Pistons rank 26th in the league in turnover percentage and have a propensity to give the ball away. What's more, they don't force many giveaways, ranking 25th in opponent turnover percentage. Ball security has to be a focus moving forward and into the postseason.