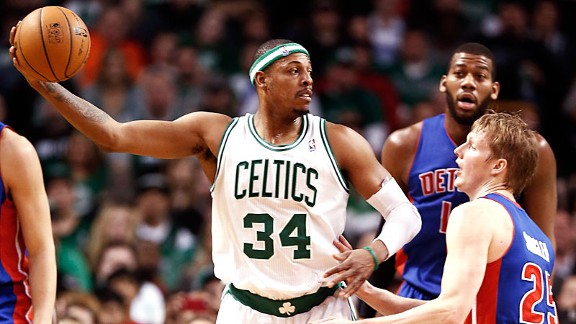 Winslow Townson/USA TODAY Sports
Paul Pierce returned to action on Wednesday night against the Pistons.BOSTON -- Rapid reaction after the Boston Celtics defeated the Detroit Pistons 98-93 on Wednesday night at TD Garden:


THE NITTY GRITTY
Celtics forward Jeff Green scored a game-high 34 points on 13-of-19 shooting to go along with 6 rebounds, 4 blocks, an assist and a steal, while Brandon Bass added 17 points on 6-of-8 shooting with a team-high seven rebounds and three blocks. Paul Pierce, back after a one-game absence due to personal reasons, chipped in 17 points despite 5-of-14 shooting (missing five of six attempts beyond the 3-point arc). For Detroit, Greg Monroe hauled in 17 rebounds and utilized an endless stream of second-chance opportunities to post a team-high 24 points, while Rodney Stuckey lived at the free throw line (11-of-15 at the stripe) and added 22 points after Jose Calderon was a late scratch. Charlie Villanueva might have been Boston's best weapon: He missed 15 of the 17 shots he put up, including some key late-game 3-pointers to help the Celtics escape.
TURNING POINT
The Celtics led by as many as 18 with 5:37 to play in the third quarter, but the Pistons embarked on an 18-4 run to knock Boston's lead to 74-70 with 11:16 to play in the fourth frame. Boston simply couldn't put Detroit away and the Pistons surged within two with 1:43 to play. Villanueva missed a triple that would have put Detroit out front with 64 seconds to go and Green answered with a 3-pointer of his own for a 96-91 lead with 45 seconds to play, helping Boston escape with the victory.
DOWNRIGHT OFFENSIVE
The Pistons hauled in a staggering 25 offensive rebounds -- nearly matching their total of defensive rebounds (27) -- and turned them into 26 second-chance points. Monroe had nine offensive rebounds himself, while Andre Drummond grabbed seven more. The Celtics had four offensive rebounds as a team (for seven second-chance points).
WHAT IT MEANS
The Celtics (39-36) snapped a two-game losing streak and, coupled with Philadelphia's loss to Charlotte, clinched a postseason berth. Their next goal should be locking up the seventh seed and Boston has three more games on this homestand, including a pair of sub-.500 opponents on deck in Cleveland (Friday) and Washington (Sunday). This extended homestand also affords Boston the opportunity to get back on the practice court, which it is expected to do on Thursday.