BOSTON -- Even if it may look like it at times, Jeff Green swears he isn't trying to take over games on the offensive end.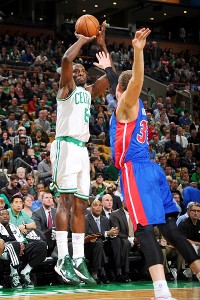 Brian Babineau/NBAE/Getty
Jeff Green puts up a shot on Wednesday night against the Pistons.Green maintained that stance following the Celtics' 98-93 victory over the Detroit Pistons on Wednesday, a tilt in which he scored a game-high 34 points on 13-of-19 shooting from the field, 3-of-4 from 3-point nation, and 5-of-7 from the free throw line. He stuck to that story even after he scored 13 fourth-quarter points, including 11 straight with under six minutes to play and the Pistons rallying from an 18-point deficit.
And, well, there might be some truth to Green's belief. His scoring bursts appear different than those of, say, Paul Pierce. Whereas Pierce might still be more likely to demand the ball and welcome an isolation situation, Green appears more opportunistic in his offensive dominance. His final seven points on Wednesday consisted of a putback dunk, a jumper off an assist from Jason Terry, and a left corner 3-point dagger, courtesy of a driving Pierce.
Rather than demand the ball and allow the shot clock to wind down, or clear out the side for an offensive move of his choice, Green seems more content to let the action develop around him and supply the offense when he finds himself with an opening.
"I don't try to take over games," said Green, who added six rebounds, an assist and four blocks. "That's why we've got [Pierce]. I'm playing off of him. We're looking for each other, we're being aggressive, and if it's in my hands, I'm going to try to make a play. If it's in his hands, he's going to make a play. So, we've just got to play off each other."
Green continued: "I didn't even know [I scored 11 straight points in the fourth quarter]. My teammates were just finding me. We've got playmakers on the floor like Paul and [Terry] -- the way Brandon [Bass is] playing -- everybody's going to be open. My teammates found me."
Green's willingness to intentionally put his stamp on a game might be debatable, but what isn't is his level of aggressiveness of late, as well as the importance that holds to a Celtics team in need of a consistent scoring punch. Not only is Green attacking the rim with the same regularity that has become a staple of his season, but he's starting to incorporate a mid-range jump shot that should only make him more difficult to defend.
"I just think [Green's] been aggressive, he's become more efficient," said coach Doc Rivers. "I think one part of his game that's opening up -- he's starting to make the elbow shots. Early in his career, even most of this year, basically, it was either the corners or to the basket. And how he's starting to make those shots on the elbows, which have been very good for us. And I think he's being aggressive, but he's also being patient as well."
Green knocked down four of the six mid-range jump shots he took on Wednesday, and afterward he touched on the added value those types of looks bring to his overall game.
"It's just something that I had to have in my game," Green said. "It's going to open up the lane that I'm going down. Teams have got to come out if I keep shooting the way I am. It's going to open up the lane and I can continue to get to the basket and to the free throw line. So it's just something that I have to have."
Green has started every game since Kevin Garnett was sidelined with inflammation in his left ankle. Though Boston is just 3-4 in those seven contests, Green's individual numbers have been terrific. In a hair under 40 minutes per game, Green has averaged 21.4 points, 6.1 rebounds and 3.7 assists on 53.3 percent shooting from the floor and 50 percent shooting from 3-point nation. Add in 1.3 blocks per game over that same span, and there's evidence that Green has been active on the defensive end as well.
Green has fought for consistency for much of the season, but he appears to finally be establishing a rhythm that will allow him to be one of Boston's primary offensive options during the postseason. He might stand as the silver lining to Garnett's injury. Added minutes and opportunities with Garnett out have played a role in Green's offensive success of late, and he'll need to carry that momentum into the playoffs.
"If [Garnett] was here I'd still continue to be aggressive," Green said. "And he'd tell me that, too. Everybody has to step up. We have to do it as a team. As long as he's out, we've just got to continue to build what we have and everybody has to step up and be aggressive and I'm just doing my part.
"I've just got to continue to do what I'm doing now. The more and more that I continue to be aggressive, the more and more pressure that's off Kevin, Paul, Brandon, Avery [Bradley]. So, I've just got to continue to do me."
And if that results in Green taking over a game offensively -- intentionally or not -- then so be it.