WALTHAM, Mass. -- The Boston Celtics are trying to utilize their remaining practice time prior to the playoffs to bring players up to speed on offensive and defensive sets, though injuries continue to threaten setbacks in that process. In addition to Kevin Garnett still being out with inflammation in his left ankle, Paul Pierce is battling a mild ankle injury of his own, while Terrence Williams suffered a dislocated right pinky finger during Wednesday's win over the Pistons.
Pierce was expected to sit out Thursday's practice after tweaking his already sore right ankle in Wednesday's win. Pierce initially turned the ankle in Sunday's loss to the New York Knicks.
"I'll probably take the day off. I'm a little sore from yesterday," Pierce said. "I tweaked the ankle, so I'll probably rest up today."
Pierce's status for Friday's game against the Cavaliers is uncertain. He said if the Celtics were playing on Thursday, he most likely wouldn't be in the lineup.
"We'll see how it feels," Pierce said. "If we played (Thursday) I probably wouldn't be able to go unless it was a playoff game. But the key right now is for us to all get healthy going into the playoffs."
WILLIAMS BATTLING DISLOCATED PINKY
Terrence Williams dislocated his right pinky finger midway through the second quarter on Wednesday, and had the digit taped to his ring finger prior to Thursday's practice.
Williams injured the finger deflecting a Brandon Knight pass with 7:23 to play in the second quarter. As Jordan Crawford corralled the ball and headed the other way, Williams hunched over holding his hand. He stayed on the floor for two more minutes and didn't appear to be hindered by the injury, though he was flexing his hand during stoppages in play. Williams said he underwent an X-ray during halftime, but results came back negative.
"(Celtics team doctor Brian McKeon said) I dislocated it," Williams said of the finger. "I never did that to my finger before. Well, I have to one of my other fingers, but it didn't swell up as much as this one. This one swelled up immediately."
Williams said he will use Thursday's practice as a testing ground for his injured finger. He admitted to having difficulty dribbling the ball after he hurt it on Wednesday, but stressed that he isn't expecting to miss any time because of the injury.
"You've got to cut my hand off for me to actually say I'm not going to play basketball," Williams said. "If I've got to tape my whole finger with all the electric tape you can find, I'm still going to try to play. It's not going to change anything. It's not like I need to shoot 15 shots. I can pass still with two hands or my left hand. It doesn't really disappoint me. It just hurts."
Read on for notes on Jeff Green staying in the starting lineup and a special visit from the Celtics before Thursday's session.
GREEN TO REMAIN IN THE STARTING LINEUP
Jeff Green has started in the seven games Garnett has missed due to his ankle injury, but Rivers won't relegate Green back to a bench role upon Garnett's return. Expect to see a bigger starting lineup moving forward, with Green and Pierce swapping time at the two-guard spot.
Rivers said he's finally seeing the production out of Green that he's been expecting all season, and that he's earned the starting job.
"I was hoping (to start Green consistently at some point)," Rivers said. "That was my intention. We weren't going to give it to him, he had to be more consistent to do that. Starters have to be consistent. Bench players are the inconsistent guys that go up and down. Jeff has earned that. And I'm really happy because he makes everyone better."
Over his last seven games, Green has averaged 21.4 points, 6.1 rebounds, and 3.7 assists on 53.3 percent shooting from the field and 50 percent from the 3-point line.
CELTICS HONOR MEMBERS OF THE U.S. AIR FORCE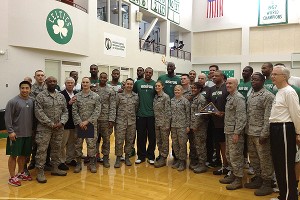 Greg Payne/ESPN Boston
Celtics welcomed members of the United States Air Force before Thursday's practice.Prior to kicking off Thursday's session, the Celtics paused to welcome members of the United States Air Force to the practice facility. The entire team was in attendance for the short ceremony (including Garnett, who emerged from the training room to take part), in which Rivers led a show of thank you to the soldiers for their service. The members of the Air Force then presented the Celtics with an American flag that was flown on Veteran's Day last year from a C17 cargo plane over Afghanistan during Operation Enduring Freedom.