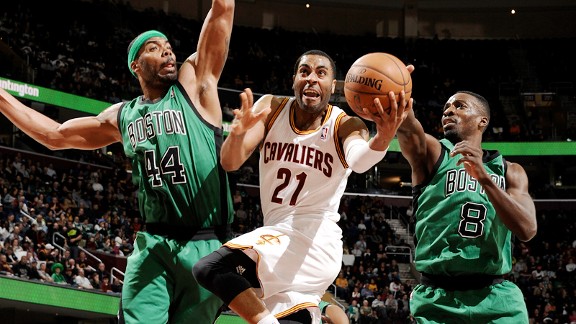 David Liam Kyle/Getty Images
The Celtics host the Cavaliers in Game 2 of a four-game homestand on Friday night.The Boston Celtics (39-36, 26-11 home) host the Cleveland Cavaliers (22-52, 9-28 away) on Friday night at TD Garden (7:30 p.m., CSN). Here's what to watch for:


* KYRIE ELEISON: When these two teams met late last month in Cleveland, the Celtics didn't have to deal with Kyrie Irving (and still needed a Jeff Green buzzer-beater to escape). Irving, back after missing eight games due to a shoulder injury, will be a primary focus for Boston's guards. Think Avery Bradley will need any motivation? Irving attacked Rajon Rondo (and Bradley, too, to a lesser degree) while putting up 40 points in a January win in Cleveland and, in the aftermath, Bradley promised no opponent would do that against him without a particularly high shot volume.
* MOMENTUM AWAITS: Even with Irving's recent return, the Cavaliers have lost 10 straight and, as with most lottery-bound teams, they can only aid their chances at a top pick by losing. That's not to say they will roll over, but Boston ought to be far more inspired to build some late-season moment than the visitors. The Celtics will potentially be without both Kevin Garnett (left ankle inflammation) and Paul Pierce (sore right ankle), and that means role players will need to elevate their play. Boston didn't fare particularly well in Minnesota on Monday when both Garnett and Pierce were out.
* SPOTLIGHT ON GLASS: The Cavaliers are not a particularly efficient rebounding team, especially since Anderson Varejao was lost for the season. Even still, the battle of the boards will be in the spotlight on Friday because Boston gave up 25 offensive rebounds (and somehow lived to talk about it) in a win over the Pistons on Wednesday. The Cavaliers rank 12th in the league in offensive rebound percentage and have the sort of athletic bigs that could give Boston headaches if they don't stick to the fundamentals.
* TIGHTEN UP THE DEFENSE: Sure, Garnett's absence is causing a natural downturn in Boston's defensive play, but the Celtics can't use that as the only excuse for their slippage at that end of the court. Coach Doc Rivers had said the team would focus heavily on defense this week, especially in getting the team's newer faces up to speed, with additional practice time. After getting an initial session on Thursday, it will be interesting to see if Boston can tighten things up a bit against a team that ranks 21st in the league in offensive rating.