Boston Celtics coach Doc Rivers said Thursday that Jeff Green had "earned" a starting role with his inspired play lately and suggested that he'll heavily consider a first unit that could put Green alongside Avery Bradley, Paul Pierce, Brandon Bass, and Kevin Garnett.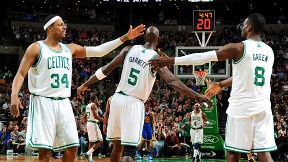 Brian Babineau/NBAE/Getty Images
Jeff Green in the starting lineup is an intriguing mix for the playoff-bound Celtics."I don't know who's at [shooting guard], but I'm comfortable with that lineup," said Rivers. "We're playing a 2, two 3s, and two 4s, if you want to really be honest. I'm comfortable with that."
Boston's injury woes this season have essentially forced it to operate without a pure point guard, leaning on shoot-first guards like Bradley to shoulder some of the ball-handling duties. But as the NBA as a whole shifts away from a formulaic starting 5, Rivers seems content to put his five best players on the floor at the start of the game and deal with the shortcomings.
Rivers did note that matchup issues could force the Celtics to shift to a group that would pull another guard -- someone like Courtney Lee -- back onto the first unit. But the Celtics clearly see potential to create their own matchup issues by running a Pierce/Green combo at the swingman spots.
A few thoughts on the potential lineup:
* NEED TO SEE IT: While the Bradley-Pierce-Green-Bass-Garnett combo is insanely intriguing, it would be in Boston's best interest to get an extended late-season glimpse at that unit. That combination has been on the floor for a mere 13 minutes this season. That's an insanely low amount of time for a lineup the team might consider to open the postseason. The unit is minus-6 in that span, but it's hard to draw any firm conclusions based on the tiny sample. Once Pierce and Garnett are healthy, Boston would be well-served to get that group on the floor against different opposing lineups to identify its potential strengths and weaknesses.
* QUICK GUARDS THE CONCERN: The biggest concern about that combination is how a quick, scoring 2-guard could put Boston in a bind. As Rivers has noted, trying to have Pierce or Green defend Dwyane Wade would less than ideal (that said, you could have Bradley guard the 2 and stick Pierce or Green on the 1). On the other hand, Boston believes it can generate mismatches at the other end of the floor as teams will struggle to match Boston's size. As Rivers noted, "It's a game of chicken."
* PIERCE/GREEN IN FOCUS: It's hard to gauge the effectiveness of the Pierce/Green combination given that much of the time that they've shared the floor this season has featured Green at the 4 (instead of playing a swing spot with two other bigs). Here's what we do know: In 938 minutes of total floor time, the Pierce/Green combination is plus-149. Home in on their last seven games, the span the team has been without Garnett and, despite Boston's overall struggles, the pairing is plus-12 over 171 minutes of action (the pair often running alongside two bigs in Brandon Bass and Chris Wilcox to start games). The defensive rating in that span is less-than-desirable (104.3 points per 100 possessions), but chalk some of that up to Garnett's absence. If Garnett can bring defensive stability -- and better rebounding -- to the center spot in that lineup, it could allow the Pierce/Green lineups to really shine.
* TIME TO FLIP THE SWITCH: Rivers admitted the team simply wasn't ready for the Pierce/Green combo earlier this season. "Well, it's grown. Because early on it was bad," said Rivers. "I mean, we did it in [training] camp -- we started out with that lineup -- and it was not very good. It was more on the other end, on the defensive end. Even in the offensive end at times, because they were both running to the post. It just took time and it was really Jeff just needed to get more comfortable. I didn't want to put him in that same spot that we did when he got here the first time [after being traded from Oklahoma City]. We were trying to show him 3 and 4 at the same time, now we're seeing 2, 3, and 4 -- so, we made a conscious effort to try to stay away from that lineup until we thought Jeff was right."
The bottom line is that, with Boston's injury woes and Green's effectiveness in starter minutes, the Celtics are ready to see what that lineup can do. It adds an element of intrigue to this team's potential moving into the playoffs. Consider Pierce intrigued.
"Well definitely with his play, [Green has] earned [a starting role]," said Pierce. "He's such a matchup nightmare, when you've got two guys of our size playing on the perimeter, because you figure one of the smaller guys has to take us. We're both post-up threats, so it causes a matchup problem, and that's what we look for, night-in and night-out, taking advantage of matchups.
Added Pierce: "The thing is, most 2s, it's going to be difficult for them to match up with me on most nights, especially in the Eastern Conference. You're not talking about having to guard Kobe [Bryant] or guys like [James] Harden. So, other than Wade and maybe a couple other guys like Monta Ellis, who can really put the ball in the hole, I think that's a complete nightmare for a 2-guard to have to match up to me."
Statistical support for this post provided by NBA.com.