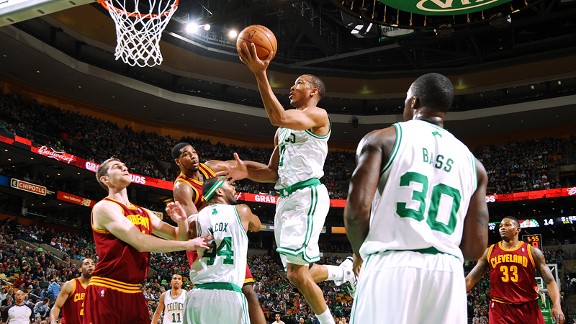 Brian Babineau/NBAE/Getty Images
Celtics guard Avery Bradley hangs in the air against the Cavaliers.BOSTON -- Rapid reaction after the Cleveland Cavaliers defeated the Boston Celtics 97-91 on Friday night at TD Garden:


THE NITTY GRITTY
Tristan Thompson posted a game-high 29 points and 17 rebounds, while Alonzo Gee added 16 points and 10 rebounds as the Cavaliers feasted on Boston's injury-depleted frontcourt while grabbing 58 rebounds overall (15 on the offensive glass for 19 second-chance points). Jeff Green scored a team-high 23 points on 8-of-13 shooting with nine rebounds and four assists, while Shavlik Randolph scored a career-high 16 points in a mere 13 minutes for Boston, which played without both Paul Pierce (sore right ankle) and Kevin Garnett (left ankle inflammation).
TURNING POINT
Nine days after the Celtics rallied from a 14-point deficit in the fourth quarter to stun the Cavaliers in Cleveland, it looked like we might see a repeat in Boston. The Celtics were down 14 with 9:19 to play when the hosts embarked on a 15-5 burst that trimmed their deficit to 4 after a Jason Terry 3-pointer with 5:46 to go. Thompson stopped the bleeding, however, with a third-chance dunk and Wayne Ellington added a jumper after a Boston turnover to push the lead back to 8. The Celtics never got closer than 4 the rest of the way.
FRIDAY NIGHT SHAV
A week removed from his breakthrough effort against the Hawks, Randolph made the most of foul-limited minutes. Randolph scored a career-high 16 points on 6-of-9 shooting to go along with seven rebounds, but fouled out after only 13 minutes of floor time (it was the first time he picked up six fouls in his career). The Celtics really missed his size.
TERRY TAGGED WITH FLAGRANT
Terry earned a flagrant-1 foul for ramming into C.J. Miles in the backcourt during the fourth quarter. Terry didn't appear to make a play for the ball and collided hard with Miles, sending both players sprawling. The timing wasn't ideal, as it aided the Cavs on a 14-3 run that stretched their lead to 82-68 early in the final frame.
BRADLEY INJURY SCARE
Celtics guard Avery Bradley retreated to the locker room, escorted by trainer Ed Lacerte, with 3:18 remaining in the game. The obvious worry was his surgically repaired shoulders, but the team announced he simply had a bruised left collarbone. He returned to the bench before the end of the game.
WHAT IT MEANS
The Celtics were unable to build some momentum after Wednesday's win over the Pistons, while the Cavs snapped a 10-game losing streak. The good news for Boston: The Knicks beat Milwaukee, keeping the Celtics 2½ games ahead of the Bucks. Boston has two more games on this four-game homestand with visits from Washington (Sunday) and Brooklyn (Wednesday).