BOSTON -- Celtics guard Avery Bradley said the bruised left collarbone he suffered during the fourth quarter of Boston's 97-91 loss to the Cleveland Cavaliers on Friday is not related to the shoulder injuries that forced him out of the Celtics' playoff run last season and that he isn't expecting to miss any significant time moving forward.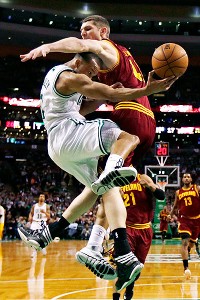 AP Photo/Charles Krupa
Avery Bradley encountered traffic on this drive to the hoop.Bradley absorbed a sharp elbow while trying to defend Cavaliers guard Kyrie Irving on a drive to the basket with just over 3½ minutes to play in the fourth quarter. Bradley reached for the sore spot when the play was over and retreated to the locker room with trainer Ed Lacerte not long after.
Bradley returned to the bench before the game was over, but did not return to action.
"[Irving] went to the basket, came down, and elbowed me right on my collarbone. It's just a little swollen," Bradley said, later adding, "It hurts, but I'll be fine. I get injured all the time. I'll be all right."
Upon seeing Bradley reach for his shoulder area, many wondered if he had aggravated one of the shoulder injuries he suffered last season that required surgery and kept him out until January of this year. But Bradley quickly denied any connection to his past shoulder problems.
"No, not at all. Not at all. Just my collarbone," said Bradley, who had ice wrapped on the sore area after the game.
Bradley's late fourth-quarter exit further dampened Boston's rally effort. Trailing by as many as 14 at one point in the fourth period, the Celtics were spurred on by Bradley's defensive efforts and a mid-quarter 3-pointer that trimmed the Cavs' lead back to single digits. He spearheaded a full-court press that disrupted Cleveland's offense, and helped limit Irving to just 1-of-7 shooting and two points in the final frame.
But Boston lost momentum when Bradley was forced to the sideline, and couldn't regain the defensive intensity that helped it slice into Cleveland's lead. Bradley finished Friday's game with 10 points, but shot just 3-of-12 from the field and 2-of-8 from 3-point nation. He can take solace in helping limit Irving, who missed 16 of the 20 shots he put up while registering 11 points and eight assists over 37:13.
The Celtics will practice in Waltham on Saturday, but Bradley said he's unsure if he'll be able to participate. Rivers admitted the collarbone diagnosis came as a relief.
"I think he's fine," said Rivers. "I think it was more the hit. I was concerned when he grabbed his shoulder that it was his shoulder, and Kyrie informed me that he shot him with an elbow; it had nothing to do with the shoulder. So I told Kyrie, 'Thank you, for the update.'"
With the Celtics having already lost Rajon Rondo, Jared Sullinger and Leandro Barbosa to season-ending injuries, and with both Kevin Garnett and Paul Pierce nursing ankle injuries, Bradley was told that he put a bit of a scare into Celtics fans by heading to the locker room.
"I know, me too," said Bradley. "But I'm fine."