BOSTON -- Informed that he had been nominated for the Eastern Conference Player of the Month award for his March exploits, Jeff Green pondered the accolade and offered, "I didn't get it, so it doesn't matter."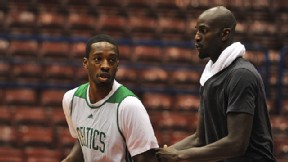 Brian Babineau/NBAE/Getty Images
Jeff Green and Kevin Garnett together for the Celtics.Informed that teammate Kevin Garnett had declared Green had the potential to be one of the best players in the game, that resonated far more with Green.
"He said that? Wow," said Green. "Michael Jordan who? I can be up there with him? Wow. I mean, coming from KG, a lot of respect, somebody who I look up to, somebody who I try to follow his footsteps. I've watched him since day one, since I've been here -- his mentality in practice, coming into games, during games, and I'm trying to take that on and put that in my game. If he said something like that, wow. I didn't know he said that. That's pretty big.
"I've got to continue to work. I learn from him. I learn everything from him, I ask him questions, I pick his brain. He's been in the league for a while, so he's been through it all. He's one of my role models, someone I look up to. And, if he said something like that, and I continue to work, it could come true."