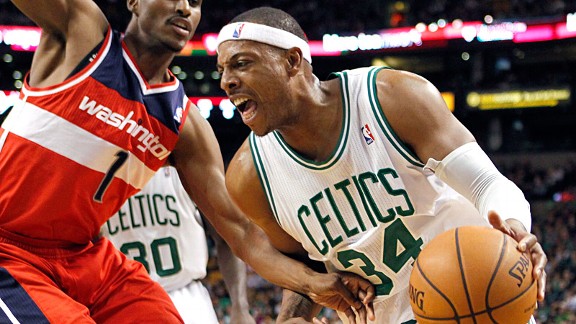 AP Photo/Michael Dwyer
Paul Pierce and the Celtics will look to get past the Wizards on Sunday night.The Boston Celtics (39-37, 26-12 home) host the Washington Wizards (29-47, 7-30 away) on Sunday night at TD Garden (6 p.m., CSN). Here's what to watch for:


* A DANGEROUS OPPONENT: Despite their overall record, the Wizards have played solid basketball since the start of February. Washington is 18-12 over its last 30 games (by comparison, playoff-bound Boston is 16-14 in that same span). The Wizards have won three of their last four with triumphs over both playoff-bound Chicago and Indiana in that span. Washington does struggle on the road (losing its last four there, and has dropped five straight in Boston).
* WALL OF FAME: Since returning in mid-January, John Wall has averaged 18 points, 7.6 assists, 4 rebounds, and 1.3 steals over 32.2 minutes per game (and the Wizards are 24-19 in that 43-game span). Over his last 20 games since the start of March, Wall's numbers hop up to 23 points, 7.8 assists, 5 rebounds and 1.6 steals over 35.9 minutes per game. Wall is coming off a 37-point outburst against defensive-minded Indiana. Remember, too, his little rivalry with Avery Bradley (Bradley was a higher-ranked prospect in high school). If Bradley can play through his collarbone bruise, this will be a highly entertaining matchup.
* NO PLAYOFFS, NO PROBLEM: Allow Celtics coach Doc Rivers to explain why teams not headed to the postseason may be the most dangerous at this time of year. "They are free. They are not playing for anything except for themselves," he said. "It's serious for everyone. The guys on Washington, the guys on Cleveland, they are playing for their careers. I've always laughed when people think the non-playoff teams don't play hard, these guys, most of them are free agents, and every night is an audition. They are auditioning for [the Celtics] when they are on the other team. So it's hard."
* WIZ KIDS PLAY D: Don't sleep on Washington's defense. The Wizards own the fifth best defensive rating (99.9 points allowed per 100 possessions), better even than Boston (7th, 100.0). Washington is also fifth in defensive rebound percentage (74.8), limiting second-chance opportunities for opponents. Synergy Sports data ranks Washington at seventh in the league allowing 0.904 points per play and the Wizards grade out well against most top play types, but are most susceptible to pick-and-roll ball-handlers (18th overall, 0.802 points per play).