BOSTON -- If Boston Celtics guard Jordan Crawford had any extra emotions playing against his former team for the first time -- you know, the one he said Saturday that he doesn't remember playing for -- he didn't show it on the court Sunday against the Washington Wizards.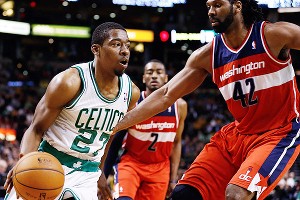 David Butler II/USA TODAY Sports
Jordan Crawford at work against his former team.Crawford quietly chipped in six points on 2-of-3 shooting over 16 minutes, 19 seconds of floor time during Boston's 107-96 triumph at TD Garden. As reporters swarmed his teammates in the locker room, Crawford flipped up the hood on his oversized coat and sneaked out unfettered.
"Honestly, until you just brought it up, I didn't think about it much," Celtics coach Doc Rivers said of Crawford's under-the-radar composure. Later he added, "I thought for a kid who clearly wanted to beat this team -- like any other kid does when you play [your former team] -- I thought his composure was terrific."
Early in the second quarter, Crawford spun into the lane and hit a difficult fadeaway jumper for his first points of the game. He hit a pull-up jumper in transition soon after. And that was evidently enough for him. Crawford passed up a heat-check 3-pointer -- likely to the surprise of his former teammates -- and didn't shoot again until missing a triple in the fourth frame. He added two assists, two steals, and three turnovers to his stat line.
Before the game, Wizards coach Randy Wittman tried to explain why it didn't work out in Washington with Crawford.
"It isn't so much that it didn't work out -- as the team developed and we started getting pieces back, obviously we were really banged up earlier in the year, and Bradley Beal's development, we thought that was the direction we were going to go through and give Bradley an opportunity to continue to grow, and it was nothing more than that," Wittman said of a swap that brought injured Leandro Barbosa and veteran big man Jason Collins to Washington. "Those things happen every year in the development of your team and you see different people develop and now it changes your focus on how you want to build your team and the people around it, and that's really how all that came about."
Informed of Crawford's suggestion that he doesn't remember playing for Washington, Wittman simply smiled and said, "I'm not going to get into a war of words here."
Inside the Wizards' locker room, former teammate John Wall was happy for Crawford's situation in Boston.
"It's totally different. His role is totally different on this side," said Wall. "I know he's probably enjoying it because they're going to the playoffs. That's one thing we never experienced in our career so far and he has a chance to do that this year, so that's a big congrats to him and good luck to the Celtics."
Read on for a few more notes, including Shavlik Randolph's non-stop bloody nose; Collins' return to Boston; and Pierce's award-winning night:
* SHAV'S BLOODY NOSE: The downside of increased playing time for Shavlik Randolph: His nose won't stop bleeding. "I feel like I'm a boxer or something," said Randolph, who had to retreat to the locker room momentarily on Sunday to stop the bleeding. "I'm getting hit like every game. I got hit so hard in the Memphis Grizzlies game a few weeks ago, and since then, every time it gets hit, it just starts bleeding. I feel like Rocky Balboa or something." Informed that Rivers had compared him to former Muhammad Ali punching bag Jerry Quarry, Randolph playfully responded, "Well, that's an unbelievable compliment."
* COLLINS SAVORED TIME WITH C'S: As Rivers was finishing up his postgame media chores, Collins popped into the interview room in order to say hello before the Wizards departed. Before the game, Rivers didn't skimp on the praise for Collins: "He's the best. He literally is... one of the best guys I've ever had in the locker room, player or coach. He is. It's funny, I didn't know him very well until we got him, I literally didn't. I used to call the two twins, I just called them the same name, 'Jason,' both of them because I didn't know which one was which. He's just good. He's a good guy and what he says is the truth." Collins said he still roots for Boston (especially when they play the Heat) and understood the decision to bring Crawford in. "With the injuries that they had, they needed another scorer," said Collins. "Jordan Crawford, he's definitely capable of doing that. It's part of the business."
* PIERCE RETURNS, WINS AUERBACH AWARD: Celtics captain Paul Pierce finished with 15 points on 5-of-13 shooting to go along with five assists and four rebounds over 30 minutes. He was a team-best plu-15 in plus/minus. How was the sore right ankle that kept him out of Friday's visit from Cleveland? "It's better. It's a little tender, a little ginger," said Pierce. "It's a lot better than it was over the last couple of days." ... Asked about winning his second Red Auerbach Award, Pierce said, "It's an honor to receive that award as someone who best represents the Celtics on and off the court... it really says a lot about the things I've done, not only on the court, but off the court. With Red's name on it, I was able to receive the first one [in 2006], for me to get another one is a true honor."