BOSTON -- Had the Celtics gotten their way, Sunday night could have marked a return to Boston for Chris Wilcox.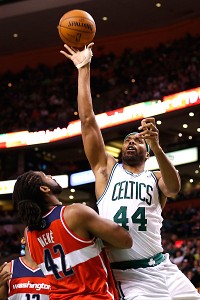 David Butler II/USA TODAY Sports
Chris Wilcox puts up a shot against the Wizards on Sunday night in Boston.The Celtics were prepared to ship Wilcox to Washington as part of the Jordan Crawford trade in February, but a stipulation in the big man's contract prevented Boston from pulling the trigger and Jason Collins was instead included in the deal.
Part of the reason why the Celtics were willing to send Wilcox away was because they weren't seeing the kinds of performances that he delivered in Sunday's 107-96 win over the Wizards, in which he contributed 13 points on 6-of-7 shooting to go along with five rebounds in 20 minutes off the bench.
Instead, Boston had been getting a steady wave of inconsistency from Wilcox that not even increased opportunities with Kevin Garnett out for eight games could help.
Garnett returned on Sunday, but in the eight games he missed, Wilcox averaged just 3.5 points and 3.6 rebounds, playing more than 20 minutes just twice over the stretch. But Wilcox was able to channel on Sunday what has garnered him success in the past: an ability to make a difference through sheer activity and hustle around the basket.
"I just wanted to go out there and be aggressive," Wilcox said. "It was Kev's first game back and I just wanted to go out there and run the floor and just try to get involved a little bit more. In the past I kind of went away from getting in there, banging and stuff, so I think tonight I went in there and just tried to get a couple easy baskets and it worked tonight."
Boston hasn't been fully patient with Wilcox's struggles this season. Heart surgery ended his 2011-2012 campaign early, but when he reached the one-year anniversary of his operation last month, head coach Doc Rivers' message to him was "no more excuses."
With the playoffs fast approaching, the Celtics want to see Wilcox work his way back toward a spot in Rivers' rotation. Boston's been thin up front for much of the season, but an overall lack of depth cannot be the reason why Wilcox is seeing the floor. Competition for front line minutes has heated up recently, as Shavlik Randolph has stepped in and found success doing the things Wilcox is typically known for. That alone should light a greater fire under Wilcox moving forward.
"I don't know," Rivers said when asked if Randolph's emergence has motivated Wilcox at all. "I don't know if I see it yet. I don't think Shav knows one way or the other; I think he's just going to play hard. Now when Chris is in, I think, yeah, he sees Shav playing and it'll make him want to play better. I don't think Shav needs to be encouraged to play hard, or better. He's doing his best, getting knocked around, hit in the face, it's great."
Rivers seems content to let the competition play out (if it fostered the sort of Glen Davis vs. Leon Powe from 2008, he'd be just fine with that). He didn't overlap Randolph and Wilcox's minutes on Sunday, utilizing Randolph in the first and third quarters while leaning heavy on Wilcox during the second and fourth frames (often pairing him with Garnett). Both big men had their chance to make an impact, and while Randolph had another strong outing with eight points and seven rebounds, Wilcox was able to make a legitimate impression of his own.
"At the end of the day, I wish I could have had better games when (Garnett) was out," Wilcox said. "But, at the same time, I've just got to keep playing hard and keep competing.
"It's going out there with effort, going out there competing, running the floor, getting blocks, getting back, getting rebounds, different things like that. Just be in the right rotation at the right time and that's what the team needs from me."
The Celtics aren't about to breathe a sigh of relief after one game, though. The effort Wilcox brought to Sunday's win will need to be the norm moving forward. He still has yet to play a postseason game in his career, and while the Celtics are already locked in for the playoffs, Wilcox hasn't yet guaranteed himself consistent minutes. For those, he'll need to finish out the final five games of the regular season with the same effort he showed against the Wizards.