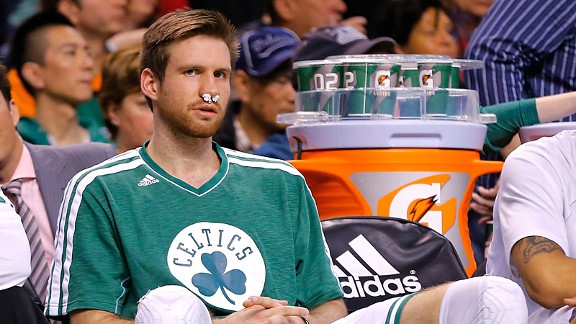 Jared Wickerham/Getty Images
The only thing that can slow Shavlik Randolph lately: A two-week nosebleed.Boston Celtics center Shavlik Randolph got hit in the face so hard last month in Memphis that the slightest touch restarts what amounts to a two-week nosebleed. During the fourth quarter of Sunday's win over the Washington Wizards, after the latest thump aggravated the familiar red trickle, Randolph sat on the Boston bench with two wads of cotton jammed up his nostrils and a huge grin.
This, odd as it might sound, was all he ever wanted.
Helping the Celtics top the Wizards on Sunday allowed Randolph to reflect on his journey to this point. After a two-year NBA absence, Randolph tried to fight his way back into the league with Washington at the start of the 2012-13 season, but was among the team's final training camp cuts.
Randolph showed the Wizards just how far he's risen, helping the Celtics win Sunday.
That probably stung more than any of the recent bops he's endured. A team that needed a six-game winning streak to close out a 20-win campaign last year desired to keep the likes of Earl Barron over Randolph.
But, as Randolph said on Sunday, "Everything happens for a reason."
Hop HERE to read the full story.