WALTHAM, Mass. -- With a regular season that practically has been defined by injuries and lineup adjustments winding down, the Boston Celtics received one of their first doses of regularity in Sunday's 107-96 victory over the Washington Wizards, as their preferred starting five of Avery Bradley, Paul Pierce, Jeff Green, Brandon Bass and Kevin Garnett finally was on the floor together.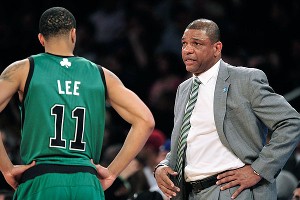 Joe Camporeale/USA TODAY Sports
Celtics coach Doc Rivers would like to get more out of reserve guard Courtney Lee.The Celtics are hoping for something of a trickle-down effect with that stability, as having the first five solidified should help cement the roles of the reserves. Boston's bench looks almost nothing like it did at the beginning of the campaign, with season-ending injuries to Rajon Rondo and Jared Sullinger, the trade for Jordan Crawford, and the acquisitions of Shavlik Randolph and Terrence Williams drastically altering its makeup.
With the newest faces potentially taking on key roles come playoff time, coach Doc Rivers knows he still has a few things to work out before the end of the season.
"I think it helps [the bench] as well," Rivers said Tuesday of having his revised starting five intact. "There's still some moving parts, fortunately or unfortunately for us right now, on our bench but I like our unit."
"I think with the move, you're going to have guys knowing what's expected of them, knowing their definite role and how much time they're going to get," Pierce said. "So that definitely can improve on a lot of consistency, especially in these last few games going into the playoffs."
Hop HERE to read the full story.