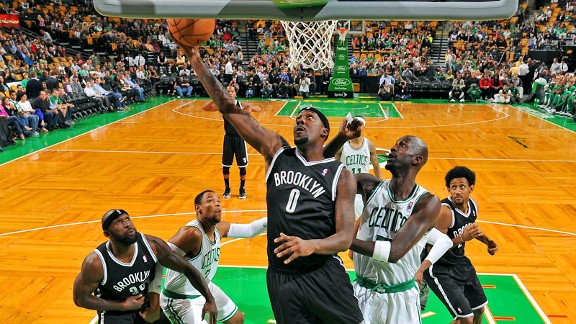 Brian Babineau/NBAE/Getty Images
The Celtics and Nets meet again in Boston on Wednesday night.The Boston Celtics (40-37, 27-12 home) host the Brooklyn Nets (45-32, 21-17 away) on Wednesday night at TD Garden (8 p.m., ESPN). Here's what to watch for:


* LET'S GET CHIPPY!: The Nets pushed Boston around twice in early-season play (leading Celtics coach Doc Rivers to call his team "soft."). Boston responded with a Christmas Day win in Brooklyn, but the Celtics are expecting a firm test on Wednesday. "Brooklyn's one of the better teams in the East. I really expect this to be a playoff-type atmosphere," said captain Paul Pierce. "The way they've been playing, they're one of the top four teams in the East. Deron Williams is playing his best basketball right now, and you kind of feel some sort of chippiness between the two teams, to be honest with you, when we match up against Brooklyn. So it's definitely a good test for a lot of us and a lot of the new guys also."
* GO BIG OR GO HOME: The Celtics are expected to trot out their new-look starting 5 -- a bigger group with only one pure guard in Avery Bradley -- but the Nets counter with a frontcourt that features Brook Lopez and rebound machine Reggie Evans. Said Rivers of Brooklyn, "They're big. They're a big basketball team. Lopez is a monster. So that's the challenge. And they're physical, they're tough, they're veterans, they match us in that. So those are usually the type of games that are fun. I don't call them chippy, I call them fun." Evans hauled in 24 boards in Brooklyn's 104-83 win over Philadelphia on Tuesday. Added Rivers: "[Evans is] a smart player. I think guys who are specialty players are pretty smart players, especially the rebounders. I don't think they get enough credit for their basketball IQ. To be able to do that, you have to think the game at a really high level, and he's done that."
* SYNERGY SNAPSHOT: The Nets rank 14th in the league offensively, averaging 0.928 points per play, according to Synergy Sports data. Brooklyn has been extremely effective in isolation situations (looking at you, Joe Johnson; the former Celtic accounts for 30 percent of Brooklyn's ISO action and averages a solid 0.905 points per play in those situations). It's Lopez, however, who is the team's most efficient scorer, ranking in the 91st percentile while averaging 1.031 points per play overall. Defensively, the Nets rank 16th overall allowing 0.933 points per play. Lopez again anchors that unit, but teams have actually found some success going at Brooklyn in the post (the big bodies simply discourage opponents as only 7.5 percent of plays have come in the post).
* NO SECOND CHANCES: The Nets rank second in the league in offensive rebound percentage (and second in total rebound percentage). While they don't smother opponents with second-chance points (11th overall), they do an under-the-radar job of preventing second-chance opportunities and won't put opponents on the foul line (second in opponent free-throw rate). Brooklyn will be attempting to win the season series for the first time since 2006. Boston simply hasn't matched up well against the Nets this season, but the two teams are likely to avoid each other in the postseason (as the fourth seed, Brooklyn couldn't cross paths with Boston until the East finals and both teams have plenty of obstacles to navigate to get to that point).