BOSTON -- Being glued to the bench due to foul trouble was agonizing for Boston Celtics guard Avery Bradley; watching Brooklyn Nets point guard Deron Williams go off for 29 points and 12 assists without being able to try to slow him down was torture.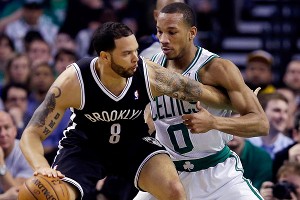 AP Photo/Elise Amendola
Avery Bradley found himself in foul trouble early and often during Wednesday's game.Bradley picked up his first foul 52 seconds into Wednesday's 101-93 loss at TD Garden and the whistles never quite stopped as he was limited to 12 minutes, 11 seconds of floor time. Bradley sat glued to the bench for much of the first half only to get tagged with his fourth foul 39 seconds into the third quarter and be forced right back to the pine.
"It was just hard to get going. I got out the game, really didn't get a feel for anything at either end of the floor," said Bradley. "But it happens. All I can do is continue to keep fighting and playing hard."
After battling through a bit of an offensive slump recently, Celtics coach Doc Rivers lamented seeing Bradley slowed by whistles in a matchup with an All-Star opponent.
"I actually think he's playing really good defense, and I don't know, those are the ones I didn't like," said Rivers. "He just had one of those games when you pick up two fouls, you take him out; you come on the floor and you bump into your third foul. He starts the third quarter, I thought Deron pushed him down, and their feet get tangled and all of a sudden you've got your fourth foul. Those games happen. It had to be unbelievably frustrating for him."
Added Rivers: "It was really frustrating for our team as well, because we needed him. It's no coincidence that right when Avery went off the floor, Deron Williams got ultra-aggressive. And I give Deron a lot of credit; when Avery picked up that first foul, he attacked him. Because they know; they want him off the floor. So Deron's smart, he wants to score. And the best way to do that is taking Avery off the floor."
Read on for more postgame notes, including P.J. Carlesimo reflecting on Jeff Green's development, how the Celtics missed out on Reggie Evans, and Kris Joseph's return to Boston:
CARLESIMO REFLECTS ON GREEN'S DEVELOPMENT
Nets coach P.J. Carlesimo offered some subtle humor while discussing the emergence of Celtics forward Jeff Green.
"I thought, honestly, coming out of Georgetown, he was not a very good player. But his rookie year he got excellent coaching, and ever since then, he's really taken off," quipped Carlesimo. Noting that reporters might have missed his joke, Carlesimo, who coached the Seattle SuperSonics in 2008, quickly added, "Before you write that, I was his coach rookie year. I don't want [Georgetown coach John Thompson III] coming after me."
Green endured one of his quieter nights recently on Wednesday, finishing with 11 points on 4-of-17 shooting with four rebounds, two assists and two turnovers. He was minus-21 in plus/minus.
Kidding aside, however, Green admitted Carlesimo's no-nonsense approach aided his development.
"He helped me realize it's a business, and in order to get where I want to be I had to work harder than I originally was," said Green. "When I got there, he was the head [coach], so he put me in the right direction, made me work for everything. He's one of a kind and I enjoyed being a player of his."
Green said Carlesimo wasn't afraid to bombard him with tough love and demand more from him.
"It's stuff you don't want to hear, but it's stuff you need to hear at the same time," said Green. "He kept it real. That's how I like it. I like people to keep it real and not beat around the bush, and that's something that he definitely did not do."
CELTICS EYED EVANS
Nets rebounding machine Reggie Evans grabbed a game-high 14 boards on Wednesday night. For a Celtics team with a thirst for a big with his blend of toughness and rebounding ability (Evans ranks first in the league in defensive rebound rate while grabbing 38.4 percent of available caroms, a ridiculous number when you consider Shavlik Randolph was tops on Boston at 26.2 percent in a limited sample entering Wednesday's game), it's a friendly reminder of what they missed out on.
"I don't know if it was this year or last year, but we talked to [Evans] and I want to say he narrowed it down to us [and the other team]," said Rivers. "And we lost."
The Celtics were reportedly in the running for Evans' services last year before he signed with the Los Angeles Clippers coming out of the lockout. The Nets then inked Evans to a three-year, $5 million contract this summer (an absolute bargain for what he provides on the floor).
Gushed Rivers: "He's been great. I've always liked guys like that. A lot of guys are like him off the floor. They can't score, they can't shoot, yet they score and you don't know how. A guy is shooting whatever from the free throw line and he still scores. But he rebounds and he had 9 offensive rebounds last night; he does it with his effort, but he really does it with his brains. I just think great rebounders, for the most part, are really smart. They have a high basketball IQ, and that makes him a great player."
JOSEPH RETURNS TO BOSTON
Kris Joseph, Boston's second-round pick last summer who was waived before contracts went guaranteed in January, returned to the Garden on Wednesday night on a 10-day contract with the Nets. He played the final 2:46, missing the only shot he took.
In three appearances totaling 11 minutes, Joseph has missed two field goal attempts and two free throws. But even after choosing to move on without him, Rivers thinks Joseph has an NBA future if he can harness his talents.
"I think he has ability," said Rivers. "I think his will be between the ears. I really do. I think he has NBA ability. I just think he's going to have to get to a point where he can do it every night and have the toughness and the focus to do it every night. You watched him at Syracuse, you felt the same way. Why isn't he doing this every night? That's a mental thing. He'll either get there or not. I hope he does."
Said Carlesimo: "I like Kris a lot. He's active, I'd like to be able to get him more time so we can look at him. It's funny -- watching games earlier in the year, we saw a couple of the clips, but I think Kris Joseph can be a good player in the league. It's just hard for us to get him time."
Joseph, the 51st overall pick in last year's draft, appeared in six regular-season games for Boston, totaling seven points and five rebounds over 24 minutes.